EghtesadOnline: Short-term investors are escaping emerging markets ahead of a likely U.S. interest-rate hike this week amid concern a strengthening dollar will undermine credit quality in developing nations.
Meanwhile, longer-term investors have increased their exposure, pointing to equity and currency valuations that linger below their five-year averages and arguing developed nations from the U.S. to France carry greater political risks, Bloomberg reported.
The divergence between the two camps hasn't been this pronounced since October 2015. Over the past four weeks, hedge funds and other leveraged investors posted their biggest emerging-market currency outflows since early December, while institutional money managers such as pension funds boosted their inflows to near the highest level in 16 months, according to data from Citigroup Inc.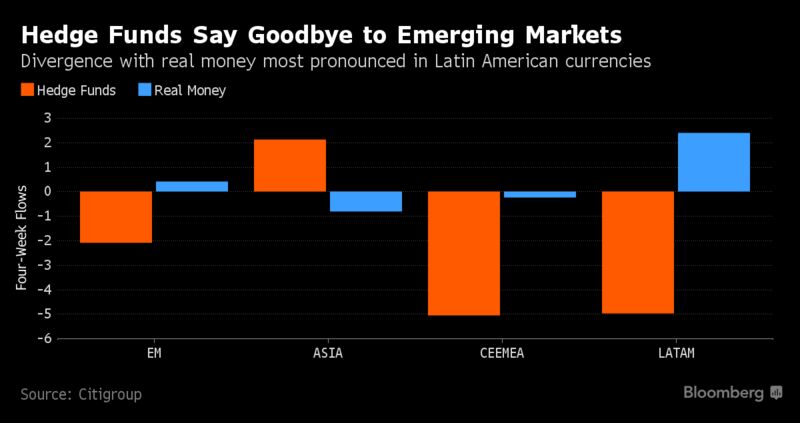 "I wouldn't say that real money investors aren't concerned, but perhaps there's a greater willingness to be patient," said Steve Hooker, a Hartford, Connecticut-based emerging-market money manager at Newfleet Asset Management, which oversees $12 billion of assets for endowments, foundations and mutual funds.
The biggest dichotomy was seen in Poland's zloty, where real-money flows rose to near the highest in more than 18 months as indexed flows for hedge funds decreased to the lowest level this year. India's rupee and South Korea's won had the next largest differentials between hedge fund outflows and real money inflows relative to past trading.
Two of the most volatile currencies in the developing world were also points of contention. Hedge funds posted outflows from the Mexican peso and slightly increased flows in the Turkish lira. Both currencies ranked among the six most favored by institutional investors, according to Citigroup strategist Kenneth Lam, who noted that the bank doesn't have access to 100 percent of flow data across the market.
Traders were in closest agreement over trimming exposure to Hungary's forint. Taiwan's dollar, Peru's sol and South Africa's rand were rare exceptions where hedge funds bulked up and real money fled.
Low equity volatility and bond spreads at multi-year lows have become a warning signfor some emerging-market investors. Since depreciating by 2.6 percent between Donald Trump's election and the New Year, developing-market currencies have gained 3.3 percent. Equities have more than recovered from their November dip, and bonds have rallied 2.8 percent over the past three months, according to a Bloomberg sovereign index.
Overcrowded trades in the highest yielding assets, such as bonds from Venezuela and Mozambique, could be scaring some leveraged investors away, according to Stuart Culverhouse, the chief economist at Exotix Partners LLP in London. Previous favorites like Argentina and Ukraine no longer offer the double-digit yields many shorter-term investors seek for taking on high-risk investments, he said.
Instead, hedge funds have been buying U.S. assets since Trump's election, according to Lucy Qiu, a New York-based analyst at UBS Wealth Management, which oversees more than $1 trillion. Horseman Capital Management, Pine River Capital Management and Black River Asset Management have shuttered emerging-market sections over the past two years. Many funds are now prioritizing private equity, said Emre Tiftik, the deputy director of global capital markets at the Institute of International Finance.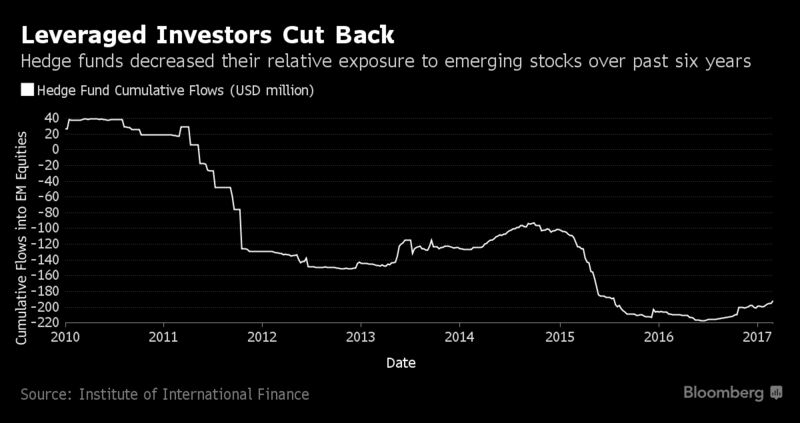 Institutional investors still see value in developing nations.
Templeton Emerging Markets Group chief investment officer Stephen Dover, who oversees about $80 billion, sees "dramatically improved" valuations across Latin America and significant growth potential in Southeast Asian economies. He traveled to Thailand, Laos, Vietnam, Malaysia, Singapore and Hong Kong for five weeks earlier this year, sizing up investment opportunities.
"We're trying to look for broad waves of growth and not get distracted by the day-to-day noise," he said. "That's very difficult to do."