EghtesadOnline: Asian equities rose and the dollar weakened as a positive U.S. jobs report helped investors position for a week of central bank policy decisions from Japan to the U.S. Oil slid for a sixth straight day.
Tokyo shares extended the biggest rally in a month while South Korean equities rose to the highest since May 2015. Chinese stocks traded in Hong Kong jumped. The dollar fell against most major peers. Oil kept sliding below $50 as U.S. drillers continued to boost activity, countering OPEC's efforts to drain a global glut, according to Bloomberg.
"There's some initial upside from the jobs report but most people are waiting and watching to see what the central banks say later in the week," said Andrew Sullivan, managing director for sales trading at Haitong International Securities Group Ltd. in Hong Kong.
Goldman Sachs Group Inc. is joining the rush on Chinese shares, becoming the latest major brokerage to upgrade the market. China's macroeconomy stabilized in the beginning of 2017, Ning Jizhe, head of the National Bureau of Statistics, said at the sidelines of the annual legislature meeting in Beijing on Sunday.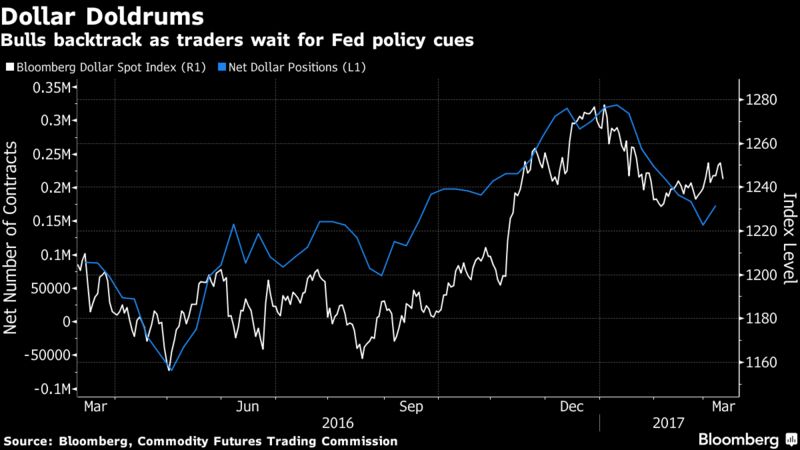 What's on traders' watch lists this week:
The BOJ is set to keep its rates and yield-curve policy unchanged in its policy decision on Thursday. The central bank could consider adopting a range for its 10-year bond yield target when it eventually looks to increase rates or needs to manage market volatility, according to people with knowledge of discussions at the BOJ.
The Bank of England, Swiss National Bank and Bank Indonesia are also expected to stand pat with policy decisions this week.
The Netherlands' election takes place March 15 amid a growing diplomatic spat with Turkey.
Earnings reports are due this week from firms including Oracle Corp., Tiffany & Co., and Prudential Plc.
G-20 finance ministers gather in Germany for a series of meetings.
Here are the main market moves:
Stocks
The MSCI Asia Pacific Index advanced 0.6 percent as of 1:47 p.m. in Tokyo. Japan's Topix rose 0.2 percent, after the gauge jumped 1.2 percent on Friday to the highest level since December 2015. The Hang Seng China Enterprises Index added 1.5 percent.
South Korea's Kospi jumped 1.1 percent, led by a 1.9 percent gain in Samsung Electronics Co. Korean shares are extending gains from last week, climbing as President Park Geun-hye's ouster removes some uncertainty from politics in the nation.
Australia's S&P/ASX 200 Index fell 0.4 percent and New Zealand's S&P/NZX 50 Index rose 0.2 percent.
Currencies
The South Korean won jumped 1 percent. The Australian dollar advanced 0.3 percent, following Friday's 0.5 percent gain.
The Bloomberg Dollar Spot Index fell less than 0.1 percent, after dropping 0.6 percent on Friday. The yen was little changed at 114.75 per dollar.
The euro added 0.2 percent to $1.0698, extending its 0.9 percent surge on Friday.
Bonds
The yield on 10-year Australian government bonds slid four basis points to 2.94 percent, tracking a rally in Treasuries on Friday.
The yield on 10-year Treasuries climbed less than one basis point to 2.58 percent.
Commodities
Oil dropped 0.9 percent to $48.08 a barrel. Crude has lost almost 10 percent over the past six days, breaking below the $50 a barrel level it had held above since OPEC and 11 other nations started trimming supply on Jan. 1.
Gold climbed 0.2 percent to $1,206.70, adding to Friday's 0.3 percent gain.
Iron ore and zinc led gains in metals, rising at least 1.3 percent. Copper added 0.8 percent.