EghtesadOnline: President Xi Jinping is moving swiftly to take the mantle of the world's free trade champion in the era of Donald Trump, even as China again demonstrates its ability to deploy trade as a weapon.
Chinese officials have used this week's National People's Congress to burnish Xi's credentials as an advocate for globalization, ahead of the country's first Silk Road summit in May.
According to Bloomberg, dignitaries from more than 100 nations will attend that meeting, with Russian president Vladimir Putin and British Prime Minister Theresa May reportedly on the list, giving Xi another platform to push back against Trump's populism. The aim is to showcase his signature "Belt and Road" initiative to link the world with a network of Chinese-built roads, pipelines and ports.
"With protectionism and unilateralism on the rise, the belt and road initiative is a common cause where all countries roll up their sleeves and pitch in together," Foreign Minister Wang Yi told reporters during a two-hour briefing on Wednesday at the NPC. Xi has "grasped the trend of the times and the course of history," he added.
The May event will build on Xi's January speech at Davos, in which he defended global trading rules that helped China's economy expand 15-fold over two decades. That's a change for a country that has often shied away from taking leadership positions in institutions like the World Trade Organization.
Since then, though, his track record has been mixed: While he's pushed to conclude a 16-nation Asian trade deal, China has also retaliated against South Korean companies over a missile-defense system.
"Simply keeping a low profile internationally no longer serves Chinese interests," said Bonnie Glaser, senior adviser for Asia at the Center for Strategic and International Studies in Washington. "China can contribute in many ways to global prosperity and stability, but it has to provide greater transparency about its ambitions and reassurance to its neighbors."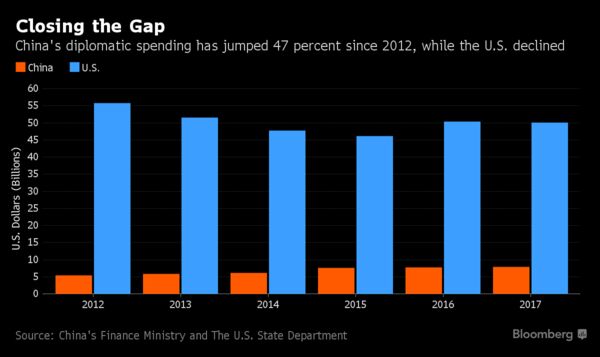 Xi's efforts to increase China's soft power were reflected in 2017 budget figures released this week. Spending on diplomatic affairs will rise to 54 billion yuan ($7.8 billion), almost double the outlay in 2013. Trump's budget office, meanwhile, has outlined a plan for a 37 percent spending cut by the State Department and the U.S. Agency for International Development, which requested more than $50 billion.
The emphasis on diplomacy represents a departure from an old dictum that translates as "hide your brightness, bide your time." In the past, China has been reluctant to get involved in global troubleshooting, and measured the success of its foreign policy in its ability to prevent foreigners from meddling in issues such as Tibet or human rights.
'More Aggressive'
But Xi, widely seen as China's strongest leader since Deng Xiaoping in the late 20th century, has slowly reoriented foreign policy since taking power.
"China is now much more aggressive on international affairs," said Jia Qingguo, a member of the foreign affairs standing committee of China's top political advisory body. "China needs more global influence as its own growth depends more than ever before on global markets and resources."
Greater spending on diplomacy may help alleviate concerns in the region over China's military buildup. The defense budget increased 7 percent this year to 1.044 trillion yuan, the slowest pace since at least 1991.
Xi has built regional economic institutions like the Asian Infrastructure Investment Bank, even as he has challenged U.S. military dominance in Asia by asserting territorial claims in the East China Sea and and South China Sea.
Thaad, Taiwan
He has also used China's economic power to advance foreign-policy goals, from rewarding countries that dropped diplomatic recognition of Taiwan to punishing them for giving awards to democracy advocates. China has now suspended the operation of more than 50 Lotte Mart stores after the South Korean retail conglomerate agreed to sell land for the missile shield known as Thaad, and ordered travel agents to stop selling tour packages to the nation.
While access to China's $11 trillion economy can be a double-edged sword for trading partners, Xi has an interest in maintaining stability ahead of a twice-a-decade leadership transition later this year. His administration has sought to build ties with the Trump administration to avoid a trade war, with Wang saying Wednesday the two nations could become "very good partners."
Key to China's strategy is showcase events that draw world leaders. The government founded a new annual confab last year with global economic organizations including the International Monetary Fund and World Bank. China also hosted several global conferences, including the G-20 summit in Hangzhou and World Internet Conference in Wuzhen.
Still, China has a long way to go. Its diplomatic budget is less than a fifth of what the U.S. spends. And Beijing has proved ineffective at convincing ally North Korea to halt its weapons development.
Ultimately, Xi must be careful not to put China's interests at risk as he looks to fill a leadership void left by Trump, according to Graham Webster, a senior fellow at Yale Law School's Paul Tsai China Center.
"What's bad for the United States and its allies is often bad for China too," he said.