EghtesadOnline: Equity markets outside Japan declined after data showed Chinese producer prices rising at the fastest pace since just after the Beijing Olympics, while consumer prices were weaker than expected. Treasury yields and the dollar continued to climb after a strong jobs report in the U.S.
The Hang Seng Index and Shanghai Composite Index both fell the most this month, while a gauge of Chinese stocks traded in Hong Kong had the steepest drop since mid-January. The MSCI Asia Pacific Index was at its lowest in nearly a month, but Japanese equities were higher, supported by a weaker yen. The yuan was its weakest against the dollar in two months. Oil rose from a three-month low, and gold declined for a fourth day, according to Bloomberg.
Analysts have lifted estimates for Friday's non-farm payrolls on the back of an ADP reading that showed the U.S. added the most workers in almost three years. A rate increase is priced into the market as a near-certainty. The bull market in U.S. stocks has entered its eighth year on one of the steepest post-election rallies in history.
China's producer price index reading shouldn't concern policy makers as it is set to peak in a month or two and then drop as base effects reverse, according to Julian Evans-Pritchard, China economist at Capital Economics. "The lack of a pick-up recently highlights how insensitive consumer prices are to producer price inflation," he wrote in a note. "We expect any further tightening of policy this year to be driven by concerns about credit risks rather than efforts to contain inflation."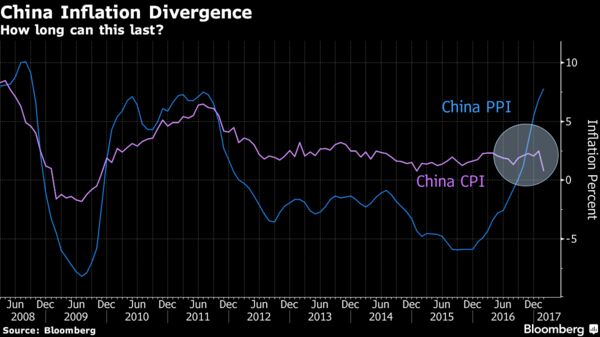 What's ahead for the markets:
Mario Draghi is expected to keep QE going until the end of the year with underlying price pressures muted. The ECB's policy decision will be announced at 1:45 p.m. Frankfurt time and Draghi will hold a press conference 45 minutes later.
Official U.S. jobs data for February are due Friday. Employers probably added around 200,000 workers to payrolls, in line with the average over the past six months and a sign of steady job growth, economists forecast.
Here are the main moves in markets:
Currencies
The offshore yuan was down 0.2 percent at 6.9296 per dollar as of 1:38 p.m. in Hong Kong. China's producer price index climbed 7.8 percent in February, the highest reading since September 2008, and the consumer price index rose 0.8 percent, less than the 1.7 percent increase that was forecast.
The Bloomberg Dollar Spot Index rose 0.1 percent after gaining 0.4 percent Wednesday.
South Korea's won slumped 1.1 percent to 1,156.13 per dollar. The Japanese yen was down 0.2 percent at 114.54 per dollar.
The British pound and the euro both fell 0.1 percent.
Stocks
The Hang Seng Index retreated 1.1 percent, its biggest intraday drop since Feb. 1, while the Shanghai Composite Index fell 0.8 percent, the most since Feb. 27. The Hang Seng China Enterprises Index slid 1.5 percent.
The Topix Index in Japan advanced 0.3 percent.
The MSCI Asia Pacific index was down 0.4 percent at its lowest since Feb. 14.
Futures on the S&P 500 were little changed after the benchmark index lost 0.2 percent on Wednesday. The index is up 5.5 percent in 2017.
Bonds
Yields on 10-year U.S. Treasuries were up one basis point at 2.57 percent after climbing 25 basis points over the past eight days.
Australian yields for similar-dated government notes were up seven basis points at 2.93 percent after hitting 2.94 percent, the highest since December 2015.
Commodities
West Texas Intermediate crude rose 0.6 percent to $50.54 a barrel. It tumbled more than 5 percent the previous session to the lowest close since Dec. 7.
Gold was down 0.2 percent at $1,205.93 an ounce, slumping for a fourth day.