EghtesadOnline: Asian stock markets were mostly higher in thin trading as investors assessed the prospects for further gains after a rally leading up to a near-certain U.S. interest-rate increase.
The Aussie dollar and stocks in Sydney maintained gains as the Reserve Bank of Australia kept rates at a record low. South Korean and Hong Kong-listed Chinese stocks posted the biggest increases among equity gauges, with trading volumes down across the board. JPMorgan Chase & Co. warned that hawkish Fed rhetoric has increased the likelihood for a short-term pullback after stocks reached records last week. The dollar slipped after Monday's advance, Bloomberg reported.
"The market's already mostly priced in a March rate hike," said Kiyoshi Ishigane, chief strategist at Mitsubishi UFJ Kokusai Asset Management Co. "But we're yet to see what the latest non-farm payrolls data look like. Also the market has yet to figure out what path beyond March the FOMC will be taking."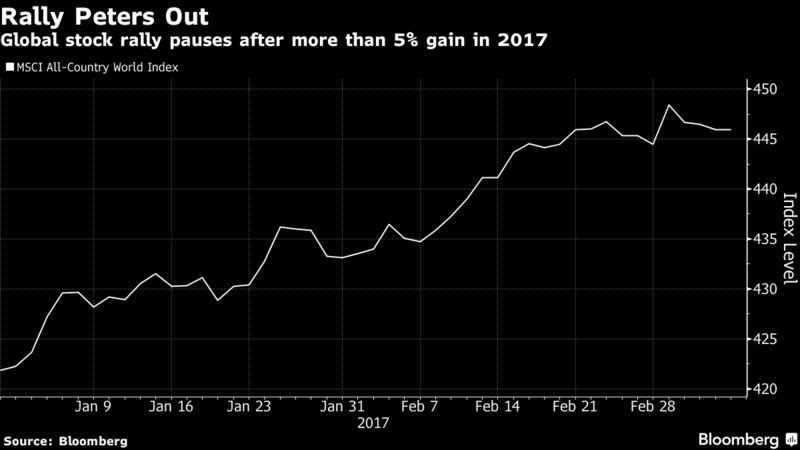 What's ahead for the markets:
Mario Draghi probably won't flinch at Thursday's ECB meeting even after headline inflation reached its 2 percent target in February. He's expected to keep QE going until the end of the year with underlying price pressures muted.
U.S. jobs data for February are due Friday. Employers probably added around 190,000 workers to payrolls, in line with the average over the past six months and a sign of steady job growth, economists forecast.
Other economic highlights of the week are Japanese data on balance of payments and gross domestic product, Chinese trade figures, industrial output for Germany, France and the U.K. German factory orders are due Tuesday.
Philip Hammond's U.K. budget arrives Wednesday. The chancellor pledged on Sunday to set aside money to cushion the economy from Brexit.
Here are the main moves in markets:
Currencies
The Aussie rose 0.4 percent to 76.06 U.S. cents as of 1:01 p.m. in Tokyo.
The yen was little changed at 113.92 per dollar. The Bloomberg Dollar Spot Index lost less than 0.1 percent after gaining 0.2 percent on Monday.
The euro steadied after sliding 0.4 percent Monday. Former Prime Minister Alain Juppe said he won't enter the race for the presidency, reducing the chances of anti-euro candidate Marine Le Pen being eliminated in the first round of voting.
Stocks
The S&P/ASX 200 index rose 0.4 percent after swinging between gains and losses before the central bank's decision.
The Topix fluctuated while Hong Kong's Hang Seng added 0.4 percent. The Hang Seng China Enterprises Index rose 0.6 percent. South Korea's Kospi climbed 0.5 percent.
Futures on the S&P 500 declined 0.1 percent, after the benchmark index lost 0.3 percent on Monday. The index is up 6.1 percent in 2017.
The Stoxx Europe 600 lost 0.5 percent on Monday, with Deutsche Bank dropping 5.5 percent.
Bonds
Yields on 10-year Australian government bonds rose one basis point to 2.82 percent
Similar-dated U.S. yields slipped one basis point to 2.49 percent after climbing two basis points Monday.
Commodities
West Texas Intermediate crude traded near $53 a barrel, holding losses after slipping0.2 percent on Monday. Clashes between armed factions in Libya curbed crude output, while U.S. drilling increased.
Gold was steady at $1,226.30 an ounce after dropped 0.8 percent in the previous session.
Iron ore for delivery to Qingdao, China, dropped 1.6 percent, falling for a third straight day.