EghtesadOnline: Federal Reserve Chair Janet Yellen left little doubt on Friday that the central bank will raise interest rates this month. More importantly, she dropped hints that it might end up having to increase them this year more than planned.
In a speech to The Executives' Club of Chicago, Yellen singled out the danger of the central bank being too slow in boosting rates, Bloomberg reported.
"We realize that waiting too long to scale back some of our support could potentially require us to raise rates rapidly sometime down the road, which in turn could risk disrupting financial markets and pushing the economy into recession," she said.
Yellen all but declared that the Federal Open Market Committee would increase rates for the first time this year at its March 14-15 meeting, saying that such a move "would likely be appropriate" if the economy stays on its current track. She also suggested that would not be the last increase this year.
Policy makers penciled in three quarter percentage-point rate increases for 2017, according to the median projection in forecasts released in December.
Subtle Change
In an indication that she thinks it's possible the Fed may have to raise rates more than that, Yellen subtly altered her assessment of the current stance of monetary policy, calling it "moderately accommodative." That contrasts with the "modestly accommodative" description she used in her Jan. 19 speech in Stanford, California.
"That's a biggie," said veteran Fed watcher Lou Crandall, in commenting on the word swap by Yellen. "There's a clear suggestion the Fed may have to step up the pace of its rate increases," he added. Crandall is chief economist at Wrightson ICAP LLC in Jersey City, New Jersey.
The small yet significant change in Fed speak suggests Yellen now believes that the current level of interest rates may be providing slightly more support to the economy than she previously thought.
Buttressing that idea: Payrolls are growing well in excess of what Fed officials reckon is sustainable in the long run.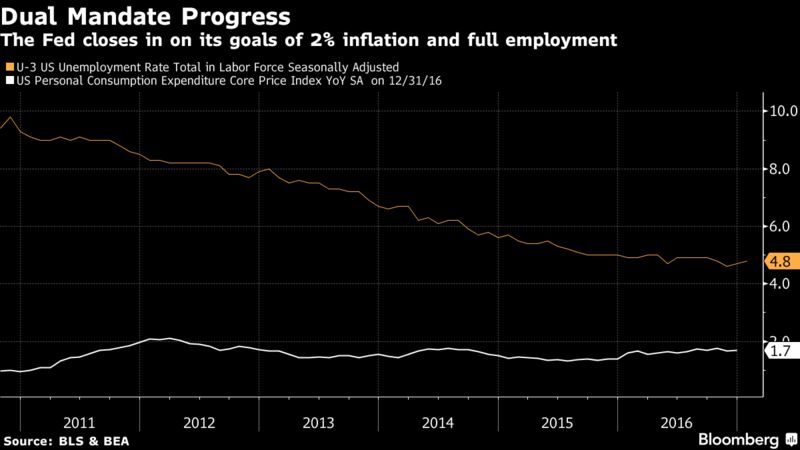 As she did in January, Yellen insisted that the Fed was not behind the curve in raising rates, despite having increased them only twice since the Great Recession ended almost eight years ago.
In the question-and-answer period after the speech, Yellen went out of her way to say that she hadn't referenced the economic impact of an expansionary fiscal policy in discussing the outlook for interest rates.
"There's nothing that I said that would be a response to possible impending policy changes" agreed to by President Donald Trump and Congress, she said.
New York Fed President William Dudley said on Tuesday that a more expansive budget policy looks likely. "What that says to me is the risks to the outlook are now starting to tilt to the upside," he said in an interview broadcast on CNN International.
Achieving Goals
Yellen told the Chicago meeting that the Fed had "essentially" met its goal of maximum employment while inflation was rising towards the central bank's 2 percent objective.
"The prospects for further moderate economic growth look encouraging, particularly as risks emanating from abroad appear to have receded somewhat," Yellen said.
She said that Europe, Japan and China all looked to be doing better.
"Relative to 2016 when all the risks were to the downside, there are members of the committee who think the risks are to the upside and they'll be happy to get in a hike," said Luke Tilley, chief economist at money manager Wilmington Trust Corp.
While he still expects Fed officials to stick with their forecast of three rate increases in 2017 when they meet later this month, "four hikes are certainly possible this year," he said.