EghtesadOnline: Equities rallied in the last half-hour of trading Friday to recover losses from earlier in the session, as investors set their sights on U.S. President Donald Trump's speech before Congress next week. Gold extended its strong run as the dollar turned lower.
The Dow Jones Industrial Average, which closed up 0.05 percent, has now hit daily highs for 11 consecutive sessions, its longest streak of records since 1987. The S&P 500 Index and Nasdaq Composite Index also finished higher, while the Russell 2000 Index lost ground, according to Bloomberg.
"Markets are pricing in the Trump agenda and they're pricing in lot of high expectations,'' Stephen Wood, chief market strategist for North America at Russell Investments in New York, said by phone. The firm oversees more than $258 billion. "The likelihood that there are going to be some legislative and political bumps on the road is certainly very high. A rally predicated on political policy can expect some volatility within it.''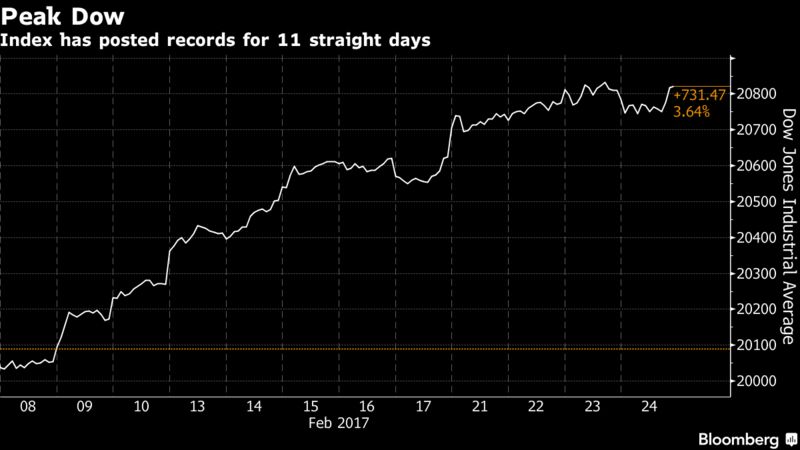 Gold rose for a fourth week after U.S. Treasury Secretary Steven Mnuchin said Thursday that he expects low borrowing costs to persist, sparking a drop in the dollar. Oil pared a weekly advance, while silver headed for the longest run of weekly gains since 2006.
The rally in global equities that helped push their value above $70 trillion is losing momentum as money managers grapple with political uncertainty and the Federal Reserve's schedule for lifting borrowing costs. In Trump's address before a joint session of Congress on Feb. 28, the president is expected to lay out his plans for tax and health care reform and infrastructure spending.
With all the uncertainty surrounding the administration's programs, the equities markets are taking a wary stance heading into the weekend before the speech.
"There have been some hints about the type of corporate income tax reform that the administration might deliver – a broadening of the base and cuts to the tax rates – markets are still waiting for the 2017 key draft fiscal budget," researchers at Barclays Plc including chief U.S. economist Michael Gapen wrote in a note Friday. "We think that the presentation to Congress will be a good opportunity for the president to more clearly flesh out his policy priorities and goals, especially on trade, taxes, and public investment."
What traders are watching for:
Investors will be looking for details on tax cuts and other economic plans when Trump addresses Congress next week.
Billionaire Warren Buffett releases his annual letter to shareholders with Berkshire Hathaway Inc.'s earnings over the weekend.
Legislators in the U.K. will consider changes to the Brexit bill next Monday and Wednesday that may address the rights of EU citizens in Britain and give parliament a binding vote on the final deal.
Here are the main moves in markets:
Stocks
The S&P 500 Index finished up 0.15%, climbing back from a 0.5% decline earlier in the day. The Nasdaq Composite Index rose 0.17%, while the Russell 2000 Index lost 0.1%. The Stoxx Europe 600 Index fell 0.76%.
Utility shares gained 1.3% and was the best performing industry group in the S&P 500 this week. Telephone companies picked up 0.72%. Financial companies weighed on market, tumbling 0.75%. Energy shares slipped 0.89% as oil prices declined.
Foot Locker Inc. rose 9.4% to pace gainers in the S&P 500 after reporting fourth-quarter earnings that topped analyst estimates. Southwestern Energy Co. led decliners in the index, sliding 12% after its fourth-quarter earnings missed expectations.
Commodities
West Texas Intermediate traded 0.72% lower at $54.06 a barrel. Brent fell 0.94% to $56.05.
Gold climbed 0.5% to $1,257.60 an ounce, heading for a fourth weekly gain.
Silver rose 0.88%, headed for a ninth weekly increase -- the longest run of gains since 2006. The metal's giving the best return this year among the 22 raw materials in the Bloomberg Commodity Index as political risk in the U.S. and Europe has boosted investor demand for a haven.
Currencies
The Bloomberg Dollar Spot Index rose 0.14% after falling 0.3% in the previous session. The gauge is 0.36% lower this week.
The euro was down 0.22% at $1.0559.
The yen added 0.45% to 112.10 per dollar, after rising 0.6% Thursday.
Bonds
U.S. Treasuries gained, with the yield on benchmark 10-year notes falling five basis points to 2.32%.
European debt advanced, with the ECB's bond-buying program seen supporting the sector. German 10-year yields fell three basis points to 0.2%, while French benchmark yields shed six basis points to 0.93%.
A note from Citigroup suggested that German two-year yields could fall to minus 1% or more, as the ECB will be forced to buy more short-dated bonds.