EghtesadOnline: The Brent crude price benchmark for millions of barrels of physical crude sales each day is poised for its biggest shakeup in a decade with a new grade added to the mix from January next year.
Norway's Troll crude, which pumped more than 200,000 barrels each day last year, will from Jan. 1 be included alongside existing grades that make up the Dated Brent benchmark -- Brent, Forties, Oseberg and Ekofisk. Statoil ASA, the nation's biggest oil company, will become the biggest holder of North Sea barrels within the benchmark, published by S&P Global Platts, according to a presentation by the price assessor its London Oil & Energy Forum on Monday.
According to Bloomberg, Platts' Dated Brent crude assessment is used as the baseline for many of the world's state-run producers selling oil to their customers in consuming nations. It's also ultimately intertwined with futures traded on exchanges, where contracts equating to billions of barrels are held by companies seeking to hedge price exposure, as well as speculators.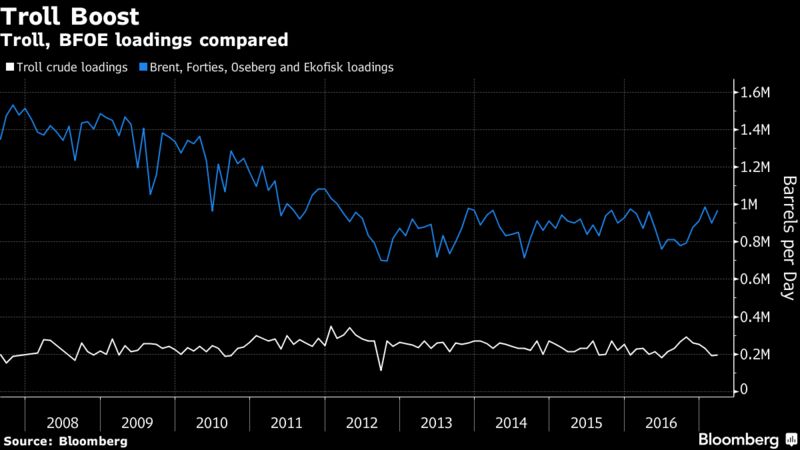 By adding the extra variety, about 20 percent more barrels will underpin Platts' key assessment. While it will boost Statoil's position, it will also diminish that of Royal Dutch Shell Plc, which until now has been the largest holder of North Sea barrels.
The addition of Troll marks the first new crude grade that Platts has added in more than a decade. The last one was Ekofisk, in 2007. Platts already flagged the possible inclusion of Troll, most recently in December.
ICE Futures Europe, whose Brent crude futures are ultimately linked to Platts prices, has hired an outside consultant to consider changes to the North Sea benchmark. One possibility would be the inclusion of crude from outside the region, David Peniket, the president of ICE Futures Europe, said in an interview earlier this month.
The Troll field is more than 50 percent owned by the Norwegian government, according to data on the Norwegian Petroleum Directorate's website. Statoil Petroleum AS is the second largest, with 31 percent. Six or seven Troll cargoes are sold on the spot market each month, according to Platts.