EghtesadOnline: Dollar bulls were handed the baton after a Federal Reserve policy maker reinforced the chances for a U.S. interest-rate increase as soon as next month. South Korea led stocks higher in Asia and iron ore surged.
The U.S. currency advanced against its major peers after the Philadelphia Fed President Patrick Harker, who votes on policy this year, told Market News International Friday that a March hike isn't off the table. Gold slumped and oil climbed toward $54 a barrel. Traders also awaited earnings from BHP Billiton Ltd. and U.S. markets reopen after a holiday, Bloomberg reported.
Global equities are trading near a record after Trump's election spurred optimism in economic growth amid signs of an inflation pickup. Yet caution remains in the markets. The dollar has fallen from the highs at the start of 2017 as investors clamored for detail on U.S. spending plans under the new administration. Japan's Topix index, meanwhile, has stagnated after reaching a peak at the start of the year, trading within a range of about three percentage points over the past 49 days -- the narrowest since 1988.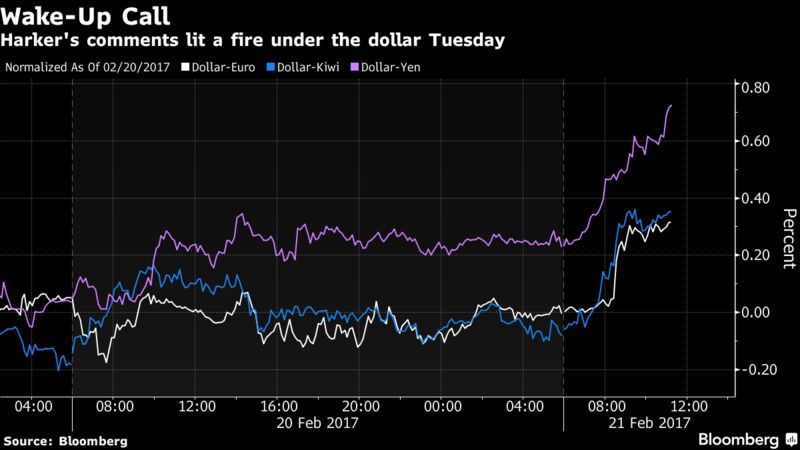 The dollar strengthened as Market News cited Harker saying in an interview Friday that "I don't think we're behind the curve right now" and that a rate move next month is not "off the table at this point." Investors have raised their bets of a U.S. rate increase as early as March or May after relatively hawkish congressional testimony last week from Fed Chair Janet Yellen and a strong inflation reading for January.
The U.K. House of Lords began debating the draft law that would allow Prime Minister Theresa May to trigger Britain's departure from the European Union, with some members seeking to make changes that opposition lawmakers failed to secure in the lower House of Commons. Marine Le Pen gained ground on her rivals for the French election, polls showed, pushing out the spread between 10-year French debt and German bunds.
Here's what's coming up that may influence investor decision:
The Fed releases minutes this week from its most recent meeting, possibly giving investors a look into how members see Trump's policies. Data should show the U.S. housing market perking up at the start of the year. The PMI is expected to rise slightly.
PMI surveys for the euro area and its two largest economies this week may show growth momentum is solid, while the Ifo business confidence survey may support that view for Germany.
BHP is forecast to post a seven-fold increase in first-half earnings. HSBC Holdings Plc earlier reported a fourth-quarter loss as interest income and fees declined. The lender said it will buyback $1 billion of its stock.
Here are the main moves in markets:
Currencies
The Bloomberg Dollar Spot Index rose 0.3 percent as of 1:47 p.m. in Tokyo.
The yen fell 0.5 percent to 113.64 per dollar, after declining 0.2 percent Monday. The Aussie slipped 0.3 percent after a 0.3 percent advance on Monday.
Stocks
South Korea's Kospi index jumped 1.1 percent to the highest level since July 2015. The Topix index added 0.5 percent, rising for a second day. Australia's S&P/ASX 200 Index lost 0.3 percent.
Hong Kong's Hang Seng rose 0.2 percent, while the Hang Seng China Enterprises Index climbed 0.7 percent. The Shanghai Composite Index increased 0.3 percent.
The Stoxx Europe 600 Index closed 0.2 percent higher on Monday. Shares in Unilever tumbled 5.1 percent after the withdrawal of Kraft Heinz Co.'s$143 billion takeover bid.
Bonds
The yield on 10-year Treasuries advanced three basis points to 2.45 percent.
Australian 10-year yields rose two basis point to 2.81 percent.
Commodities
Gold dropped 0.4 percent to $1,233.31 an ounce. The metal has alternated between gains and losses over the past four sessions.
Oil advanced 0.5 percent to $53.69 a barrel, rising for a third straight day.
Iron ore futures soared 3.7 percent. The component used to make steel is up 34 percent this year.