EghtesadOnline: Most U.S. stocks rose, taking the S&P 500 Index to a fresh record amid deal action ahead of the holiday weekend. Treasuries advanced and the dollar erased losses for the week as investors await details on Trump administration tax and spending plans.
The S&P 500 erased declines in late trading to cap its fourth straight weekly advance, the longest run since July. It's gained in eight of the past nine days. Kraft Heinz Co. rallied after making a takeover bid for Unilever, lifting shares of consumer products makers. The 10-year Treasury note yield slid below 2.42 percent. French bonds retreated and the euro weakened as political risks weighed on sentiment. The pound headed for the lowest level in a month. U.S. markets are closed Monday for a holiday, according to Bloomberg.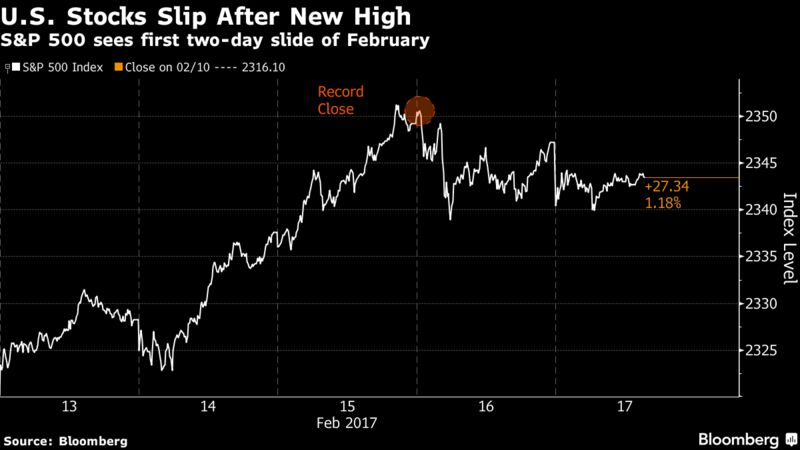 Stocks are pausing a rally as investors go back and forth assessing the prospects for President Donald Trump's economic plans and the timing of U.S. interest-rate increases. In Congressional testimony this week, Federal Reserve Chair Janet Yellen warned against waiting too long to tighten policy. Concerns about France's future in the euro region in the event of a Marie Le Pen presidency are roiling the country's assets.
Stocks
The S&P 500 rose 0.2 percent to 2,350.97 at 4 p.m. in New York, staging a rally int he final minutes of trading to close at an all-time high. The measure added 1.5 percent in the week.
Kraft jumped 10 percent after Unilever rejected a $143 billion bid. Unilever surged in London trading.
The Stoxx Europe 600 Index ended higher by less than 0.1 percent, capping a 0.8 percent advance for the week.
Emerging-market equities slid 0.8 percent, trimming a fourth weekly gain to 0.8 percent.
The MSCI Asia Pacific Index lost 0.2 percent, with China stocks traded in Hong Kong paring a weekly gain.
Bonds
Treasuries gained, pushing the yield on benchmark 10-year notes down four basis points to 2.41 percent.
European government bonds were mixed. French notes fell, with yields on 10-year notes rising two basis points to 1.03 percent. German bonds gained, with benchmark yields dropping five basis points to 0.3 percent, while gilts advanced following the retail report, driving benchmark yields five basis points lower to 1.21 percent.
Currencies
The Bloomberg Dollar Index erased a 0.2 percent drop to advance 0.2 percent.
Sterling fell 0.5 percent percent, heading for the weakest closing level in a month, after data showed retail sales unexpectedly fell for a third month in January.
The euro slipped 0.6 percent to $1.0608.
Commodities
The Bloomberg Commodity Index, which measures returns on raw materials, fell 0.4 percent, heading for its fourth weekly drop in five.

Oil declined 0.3 percent to $53.18 a barrel. Crude is heading for its first weekly decline in five weeks as expanding U.S. crude stockpiles countered output cuts from OPEC and other producing nations.

Gold slipped 0.2 percent to $1,239.20 an ounce, paring its seventh weekly gain in eight weeks.