EghtesadOnline: OPEC may be getting all the credit for reviving the oil market, but it had a little help. While the Organization of Petroleum Exporting Countries did spur a 28 percent recovery late last year by announcing production cuts, supply isn't the only factor buoying the market: demand repeatedly beat expectations in 2016, and is set to surprise again.
Global oil consumption will surpass average growth rates for a third year in 2017 amid continued economic expansion in China and India, according to data from the International Energy Agency. With all the attention on OPEC, the role of demand in keeping crude prices above $50 a barrel has been overlooked, according to consultants Energy Aspects Ltd.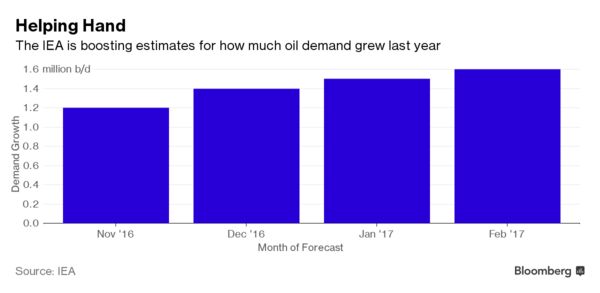 "With all the focus on OPEC cuts and the response of U.S. shale, very few were paying attention to just how rampant demand growth has been," said Amrita Sen, chief oil analyst at the London-based company. "In fact, demand is roaring ahead."
After plunging crude prices propelled fuel consumption growth to a five-year high in 2015, the Paris-based IEA, which advises most major economies on energy policy, predicted the stimulus of cheap oil would wear off, Bloomberg reported.
Yet after a series of upward revisions, its estimate of demand growth in 2016 now stands a third higher than when it was first introduced, at 1.6 million barrels a day, or 1.7 percent.
That compares with an average of 1 million barrels a day, or 1.1 percent, over the previous 10 years. In its latest report on Feb. 10, the IEA also raised its prediction for 2017 demand growth, forecasting an increase of 1.4 million barrels a day.
"Stronger-than-expected demand is helping to re-balance the market," said Jason Bordoff, director at the Center on Global Energy Policy at Columbia University. "Colder weather, low prices, also stronger growth projections for emerging economies like China or India" are driving the expansion, he said.
Demand Peak?
The gains in demand "are still fairly small" when considering the amount of surplus oil, and consumption "still faces headwinds in the medium term" as emerging economies become more efficient in their fuel use, Bordoff said. World oil demand could top out in just five years' time, Royal Dutch Shell Plc's chief financial officer said in November.
"Oil demand may peak sooner than expected if GDP growth is slower than past trends, fuel efficiency rises more sharply, climate policies become more stringent, or alternative-fuel vehicles take off more quickly," Bordoff said.
In the meantime though, the recovery is real. There's a "genuine pickup in manufacturing" in Asia, where the "urban middle class is voraciously consuming packaging, electronics and other non-durable goods," said Energy Aspects' Sen.
The effect of those broader economic trends isn't so instantly clear as oil supply cuts by producing nations, and so the market's attention will remain locked on OPEC and its partners, said Spencer Welch, director of oil markets and downstream at IHS Markit.
"Demand is an equally important part of the equation," Welch said. "It is overlooked."