EghtesadOnline: Iraq's oil exports are poised to decline to a seven-month low in March as ongoing maintenance at some of its biggest fields coincides with a seasonal slump in shipments, potentially helping the country to meet a pledge to OPEC that it would restrict crude supply.
The second-biggest producer in the Organization of Petroleum Exporting Countries will export 3.01 million barrels a day of crude from its Persian Gulf export terminals, down from 3.64 million in February, loading programs obtained by Bloomberg show. The March figure is the lowest since August, while this month's flows are scheduled to be the highest since October 2015, according to Bloomberg.
While the slump could help Iraq to honor its commitment to OPEC, what's harder to judge is the extent to which the reduced flows reflect a government-led push to restrict supply. Some key fields will be undergoing maintenance in March, limiting what they pump. Also, planned cargo flows have dropped during the month from February every year stretching back to at least 2012, often amid stormy weather at export terminals.
Nonetheless, it is not clear if the authorities would have factored weather into their schedule for this year, said Robin Mills, chief executive officer of consultant Qamar Energy.
"They schedule what they can, then that may get disrupted by bad weather," Mills said by phone from Dubai. "They're constrained on the exports anyway so they have to try to cram in as much as they can."
Production Cuts
Iraq pledged on Nov. 30 to cut 210,000 barrels a day from what it was pumping in October, as part of a drive by global producers to reduce a crude glut. The nation so far reduced by about half that amount, the International Energy Agency in Paris estimated on Feb. 10. OPEC itself is attempting to limit supplies by about 1.2 million barrels a day, with non-member states also promising curbs of about 550,000 barrels a day.
A spokesman for Iraq's Oil Ministry could not be reached for comment by phone, and a spokesman for the state-run South Oil Co. declined to comment.
Iraq's export capacity increased by more than 1 million barrels a day this month with the addition of a new pipeline at the Basra Oil Port, South Oil Co. said last week. The port, the country's largest export facility, increased its capacity to 2.5 million barrels a day, from about 1.4 million previously.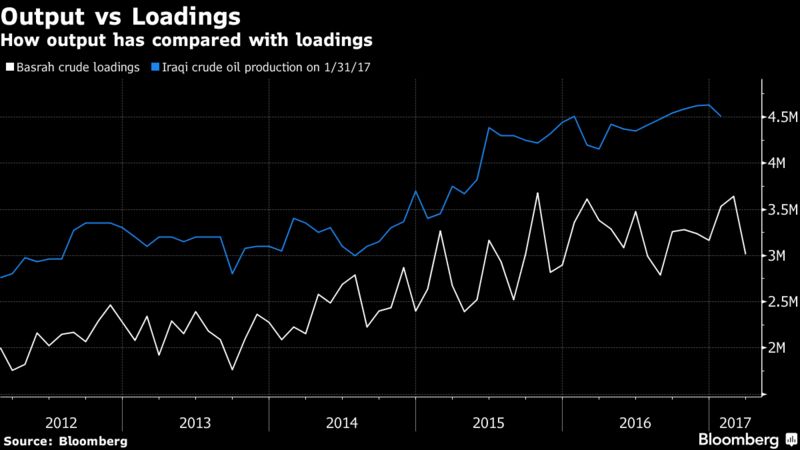 The oil ministry has allocated most of its OPEC cuts to state-operated oil fields. International oil companies have also started maintenance work at some fields, which is likely to trim their output. Iraq's largest oil field Rumaila, operated by BP Plc, started maintenance in January that is due to finish in June. The Majnoon field operated by Royal Dutch Shell Plc was due to start maintenance this month, to finish in April, according to a person familiar with the matter.
Exports of Basrah Light crude are set to fall to 2.21 million barrels a day in March, from 2.75 million this month, the loading plan shows. Basrah Heavy shipments are due to slip to 806,000 barrels a day from 893,000 in February.