EghtesadOnline: The reflation trades that boosted the dollar and torpedoed bonds after the U.S. election showed renewed signs of fading amid Donald Trump's latest foreign-policy rhetoric and central-bank decisions that did little to alter views on the state of the world economy. U.S. stocks edged higher.
The S&P 500 Index erased losses to trade little changed, with Mead Johnson Nutrition Co. surging on deal talk. The dollar slumped toward its lowest level since November as the Federal Reserve gave no fresh hints on its plans for rate policy. The yield on the 10-year Treasury note fell to 2.44 percent after rising above 2.50 percent Wednesday. The pound fell after the Bank of England said there's more slack in the economy than previously thought. Oil climbed was little changed, Bloomberg reported.
With central banks signaling they're in no rush to change policy direction as the world assesses the impact of American's new leadership on global growth, investors continue to look for clues on economic strength. While signs point to growing confidence that growth will accelerate, data have painted a murkier picture, increasing the significance of Friday's jobs report as the White House leaves investors waiting for details on tax and spending initiatives.
"The dollar and other currencies are in a push-pull situation," said Andrew Milligan, head of global strategy at Standard Life Investments Ltd. in Edinburgh. "On the one hand economic fundamentals imply the dollar should rise, but on the other hand there is political risk. If the political risk premium rises too much, then it's contrary to what the fundamentals are actually saying."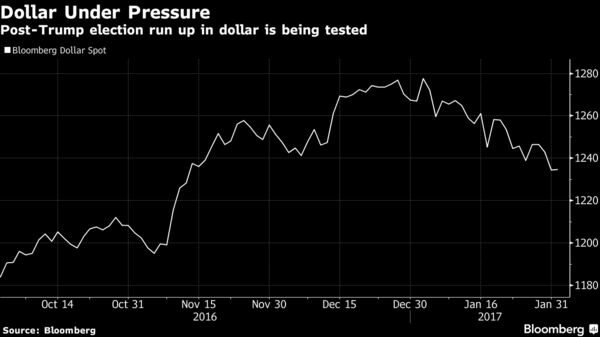 Earnings are coming thick and fast, with mixed results clouding the picture on the state of the global economy. While Facebook Inc.'s sales topped forecasts, Sony Corp. and Mazda Motor Corp. cut their profit outlooks. In Europe, Deutsche Bank AG and Royal Dutch Shell Plc missed estimates. Due later on Thursday are earnings from Amazon.com Inc.
What's coming up in the markets:
Economists expect a 175,000 increase in U.S. nonfarm payrolls for January, in line with the recent trend, when the Labor Department releases jobs data on Friday. With both hiring and unemployment likely to remain relatively stable, the focus on the jobs report will center on wage pressures.
Here are the main market moves on Thursday:
Stocks
The S&P 500 Index rose less than 0.1 percent to 2,280.32 at 11:31 a.m. in New York. The index has retreated in four of the past six days, though declines have been limited to 1 percent.
The Stoxx Europe 600 Index dropped 0.3 percent as investors assessed disappointing corporate outlooks with health-care shares falling the most.
Deutsche Bank tumbled 5.4 percent after its quarterly trading revenue missed analysts' estimates.
Currencies
The Bloomberg Dollar Spot Index lost 0.5 percent, extending its decline this year to 3 percent.
The pound weakened 0.9 percent. Sterling initially jumped as policy makers signaled increased concern about inflation, before dropping as the forecasts for price growth weren't as aggressive as some analysts expected. The Monetary Policy Committee now sees gross domestic product rising 2 percent this year, up from 1.4 percent in November.
Commodities
Nickel led industrial metals higher, advancing 1.7 percent to $10,420 a metric ton after the Philippines announced mine closures and suspensions.
Gold rose 1.1 percent to $1,222.48 an ounce, the fourth gain in five sessions. Silver added 0.8 percent.
Oil rose as the biggest expansion of U.S. stockpiles in three months countered output cuts by Russia, the largest non-OPEC member that's joined the group in trimming supply. West Texas Intermediate climbed 0.2 percent to $53.96 a barrel.
Bonds
Treasuries gained, with the 10-year yield dropping two basis points to 2.45 percent.
The yield on Portugal's 10-year bond added 11 basis points to 4.09 percent. German bunds gained, with the yield on the benchmark note due in a decade dropping three basis points to 0.44 percent.