EghtesadOnline: French Presidential front-runner Francois Fillon unleashed a volley of attacks on independent challenger Emmanuel Macron Sunday, as he tried to stabilize his campaign after a turbulent week.
With prosecutors examining whether Fillon broke the law when he employed his wife as a parliamentary assistant, the candidate fought back at a rally in Paris saying that Macron was a typical elitist and out-of-touch with ordinary people, while tying him to the Socialist government's policies. In a further rebuke to outgoing President Francois Hollande, Socialist supporters picked party dissident Benoit Hamon as their nominee in a primary vote, Bloomberg reported.
Macron, 39, quit the Hollande government last year to mount an independent run for president and is nipping at the heels of the Republican Fillon and the anti-euro nationalist Marine Le Pen, pitching himself as young outsider who can appeal to voters across the spectrum. While surveys have made Fillon favorite to win May's presidential run-off, bookmakers cut the odds of a Macron upset over the weekend, judging that prosecutors' Jan. 25 decision to open a preliminary criminal investigation into the Fillons may shift public opinion.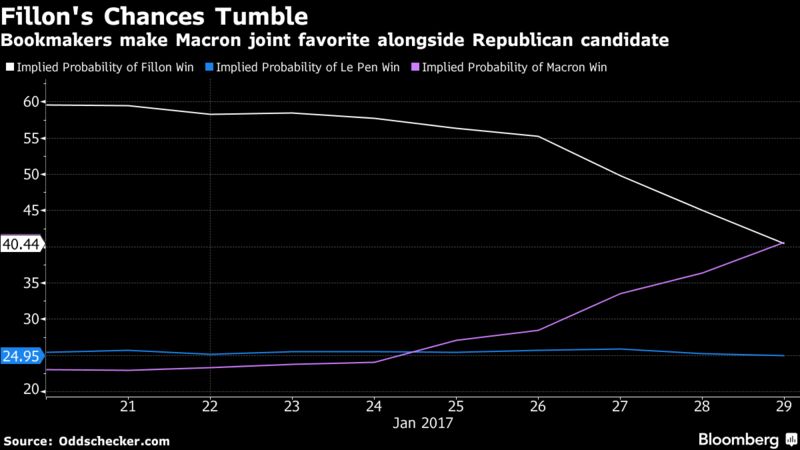 "He says he's a reformer -- why not? -- but not as much as me," Fillon shouted to a crowd of about 10,000 waving French flags. "He says he's independent and comes from nowhere: the truth is that he ran Hollande's program and most of his policies. Macron is a prototype of the elite that knows nothing of the deep-down reality of our country."
As Macron's momentum builds, his former colleagues in the Socialist are struggling to maintain unity at the tail end of the most unpopular presidency in modern French history.
Socialist Tensions
Hamon, 49, made his name rebelling against the leaders of the Socialist Party and President Hollande. He defeated Hollande's former prime minister, Manuel Valls, and was ahead by 59 percent to 41 percent with more three quarters of the votes counted.
"Starting on Monday, I will propose to all the candidates in the primary, and to all those who are part of other leftist and ecological movements, that together we construct a governing majority that stands for social, ecological and democratic progress," Hamon said in his acceptance speech. "France needs a modern innovative left. Victory is not out of the question."
Mathematically, he could be right. Politically, it looks a long shot.
Hollande is the least popular president in modern French history and the first to decide not to stand for reelection. Most polls show whoever the Socialists nominate would receive 10 percent or less in the April 23 first round of the presidential election, finishing a distant fifth and well out of the running to qualify for the May 7th run-off between the top two.
Defecting to Macron
The party itself is divided over the legacy of the Holland years. On Sunday night Valls offered a tepid endorsement before launching into a list of his accomplishments in government. And Hamon didn't wait for his defeated rival to finish before starting his acceptance speech, forcing TV networks to cut away from the former prime minister in mid-sentence.
The Socialists' decision to back Hamon's proposals for a universal income for all French adults over Valls pragmatism offers another boost to Macron, who has already lured many Socialist voters and won the backing of several party figures.
"Supporters of social democracy rather than unreformed socialism have to accept they may have to choose the maverick candidate with a fledgling party structure over the candidate of the established Socialist Party," said Charles Lichfield, an associate at Eurasia Group.