EghtesadOnline: Ten sailors are missing and five were injured after a U.S. warship collided with a petroleum tanker near Singapore on Monday, the second crash involving an American naval vessel in Asia in a matter of months.
Search-and-rescue efforts are underway after the USS John S. McCain collided with the Alnic MC, the U.S. Navy said. The Navy is examining the extent of the damage and injuries, with initial reports suggesting the guided-missile destroyer suffered damage to her port side, according to Bloomberg.
"Thoughts & prayers are w/ our @USNavy sailors about the #USSJohnSMcCain where search & rescue efforts are underway," President Donald Trump said on Twitter. Earlier, in response to a shouted question on the incident, he said "that's too bad."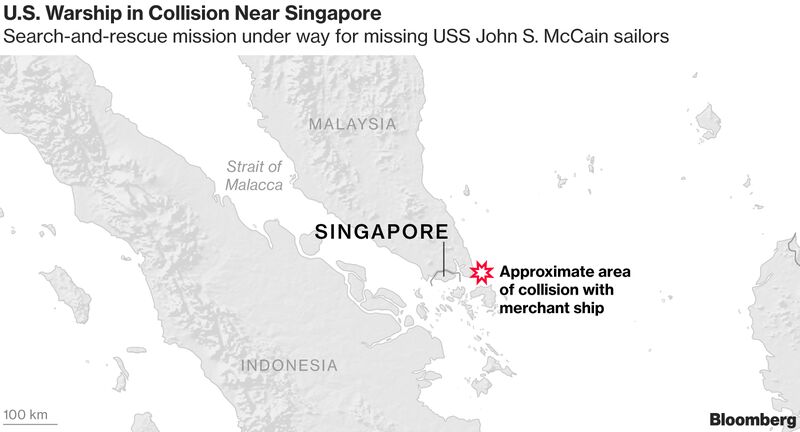 Singapore, which is leading the search-and-rescue operation, said that both ships were heading back to port to assess the damage. There was no report of oil pollution, and traffic in the Singapore Strait was unaffected, the Singapore government press center said in a statement.
The collision comes shortly after the top three commanders of the USS Fitzgerald -- a U.S. Navy destroyer that ran into a cargo ship near Yokosuka in June -- were removed from their positions after an investigation found that flawed teamwork and inadequate leadership contributed to the accident. Seven sailors drowned in that accident.
A U.S. Navy spokesperson said it was too early to make comparisons between the two collisions as the latest accident is still being investigated.
"Our ships are well maintained and our sailors are well trained," Captain Elizabeth Zimmermann said on Monday. The Seventh Fleet has between 40 and 60 ships operating in the region at any given time.
Cindy & I are keeping America's sailors aboard the USS John S McCain in our prayers tonight - appreciate the work of search & rescue crews https://t.co/jzk9giXbfg

— John McCain (@SenJohnMcCain) August 21, 2017
USS John S. McCain is named after the father and grandfather of Senator John McCain. In a tweet, he said he and his wife were praying for the sailors and appreciative of search-and-rescue crews.
Choke Point
The Malacca and Singapore straits are key choke points of the oil trade in Asia. About 40 percent of oil shipped by water passes through the area, as well as about one quarter of the world's traded goods, according to the Marine Department of Malaysia.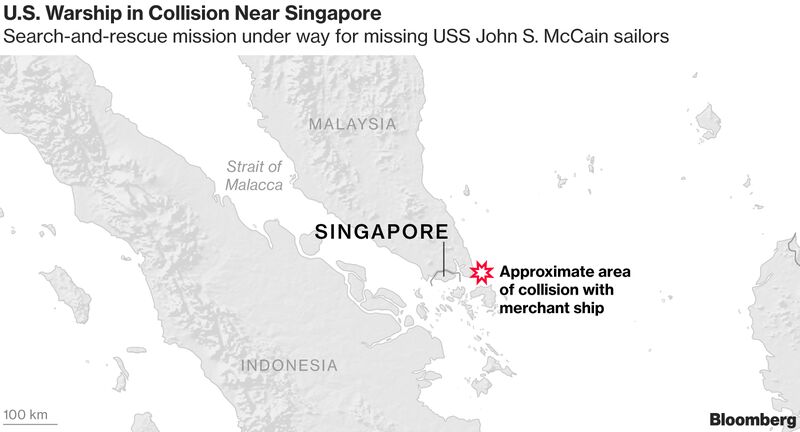 The Alnic MC was chartered on Aug. 17 to ship a cargo of petroleum from Southeast Asia to the Far East, according to ship-broker data compiled by Bloomberg. It was supposed to load its cargo on Aug. 25.
Vessels from Malaysia's navy and maritime authority, as well as its air force, are helping in search and rescue efforts for possible missing sailors in the collision off Johor state, Chief of Navy Ahmad Kamarulzaman said in Twitter posts.
The U.S Navy and Marine Corps have come under fire for stretching resources to keep up with demand for deployments.
Between 1998 and 2015, the Navy shrank by 20 percent to 271 ships, while the number of vessels deployed overseas remained at about 100 ships, Bryan Clark, a senior fellow at the Center for Strategic and Budgetary Assessment, wrote in a 2015 article for The National Interest. Clark concluded that each ship has to work 20 percent more to meet demand.
"The navy is maxing out limited ships and crews to do an expanding array of jobs to keep up with security commitments here and elsewhere," said Collin Koh Swee Lean, a research fellow at the maritime security program at the S. Rajaratnam School of International Studies in Singapore. "Recent problems faced by USN such as manpower shortages can mean the individual crew on board can spend a higher average number of days out at sea."