EghtesadOnline: President Emmanuel Macron expanded his control of French politics as voters put his party on track to a sweeping majority in the National Assembly in the first round of legislative elections.
Macron's year-old party, Republic on the Move, won about 31.5 percent of the vote, almost 10 percentage points ahead of the Republicans, according to the Interior Ministry, with 89 percent of the vote counted. The result would give Macron's backers between 415 and 455 seats out of 577 in the lower house of parliament, according to projections by Ipsos, according to Bloomberg.
The results -- which need to be confirmed in the second round of voting next Sunday -- would give Macron the biggest majority in the Assembly since 1993. That offers the 39-year-old president the power to push through his recipe for fixing France over the next five years and face the consequences if he fails.
"Emmanuel Macron has redrawn the French political map," former Danish Prime Minister Anders Fogh Rasmussen said on Twitter. He and his party have "a generational chance to deliver reforms."
One key plank of that vision is the controversial labor-market overhaul that he has promised to deliver by mid-September. With the French economy lagging its peers, Macron also wants to change tax rates and fix inequalities in the pension system. He's already started to revamp French intelligence services after terrorists claimed more than 200 lives since the beginning of 2015.
Labor Reform
Simplifying France's labor code was one of Macron's main campaign promises. The president began a round of initial meetings with union leaders within 10 days of taking office on May 14. Those talks will get under way in earnest after next Sunday's second-round vote as the government seeks common ground for reworking the country's byzantine labor rules.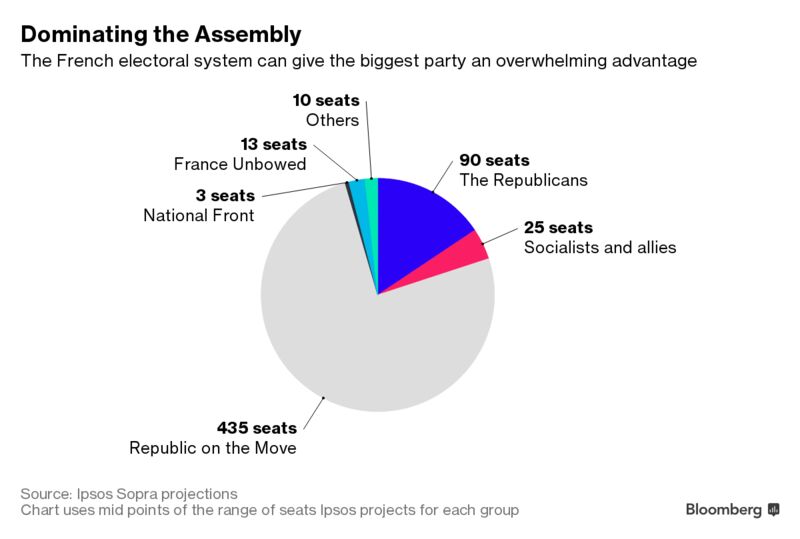 Macron wants individual companies to negotiate wages rather than being bound by industry-wide agreements. He has argued that a more flexible labor market would help boost growth and win the trust of France's European partners, above all Germany.
For at least two decades, French unions have opposed such efforts, emphasizing job protection instead, but a week from now, Macron may find himself in a stronger position than any French president for a generation. With a majority in parliament and hundreds of lawmakers who are completely new to politics, the president would hold extensive control over the levers of government.
"This victory will no doubt go down as one of the great electoral achievements in our country's recent history," said Bruno Cautres, a politics professor at Sciences Po who works with pollster BVA. Yet it "doesn't necessarily mean the country is totally won over to the reforms that Macron wants to carry out."
Still, the opposition parties who might ordinarily lead the resistance to Macron and his prime minister, Edouard Philippe, are embroiled in extensive rebuilding after each suffered unprecedented defeats during the presidential vote.
"The message of the French people is unambiguous," Philippe said in a televised address. "For the third consecutive time, millions of you confirmed your support for the renewing, unifying, reconquering project of the president."
Opposition Forces
The Socialists and their allies, who held power under Francois Hollande until just weeks ago, were decimated. They'll have between 20 and 30 seats, down from 331 as many of their voters and indeed lawmakers rallied to Macron, Ipsos projected.
The Socialists are also facing a challenge from the left by Jean-Luc Melenchon's France Unbowed. The far-left candidate won 19 percent of the vote in the first round of the presidential election and will see his party take between 8 and 18 seats, Ipsos said.
The Republicans, the heirs to Charles de Gaulle who looked set to take power themselves six months ago, will have between 70 and 110 seats amid recriminations over Francois Fillon's failed presidential campaign, Ipsos's projections show.
The National Front, whose leader Marine Le Pen has faced criticism from party grandees after losing to Macron in the presidential runoff performance, will win between one and five seats. Le Pen led polling in her constituency in northwestern France, suggesting she will enter the Assembly for the first time.