EghtesadOnline: Emmanuel Macron's pro-European verve is already proving a thorn in the side of some of the continent's eastern nations. But the French president's rise is being welcomed elsewhere in that region.
Even before his election landslide, Macron took aim at Poland's lurch toward nationalist populism, encouraging proposals that could also counter Hungarian leader Viktor Orban's self-styled "illiberal democracy." Nearby Romania isn't perturbed. Far from it -- its prime minister sees Macron as the catalyst for a much-needed European Union overhaul, according to Bloomberg.
"I was among the first leaders to congratulate President Macron on his victory, which is a victory for Europe against populism," Sorin Grindeanu said Tuesday in an interview in his office in Bucharest. "It's now becoming clear that populism has no place in the EU and is losing its supporters one by one."
Revitalized by Macron and election defeats for populists in the Netherlands and Austria, the EU is once again pushing closer integration -- an endeavor that risks leaving behind member states such as Poland and Hungary that are challenging the bloc's rules and values. Romanians' enthusiasm for the EU exceeds that of most countries. The ex-communist NATO member of 20 million people is also the bloc's second-poorest nation, making it reliant on EU funds.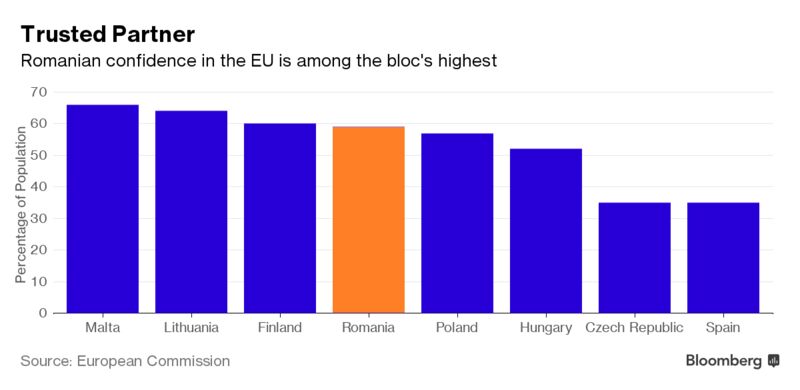 Romania, one of the EU's fastest-growing economies, has also grabbed the bloc's attention for the wrong reasons. EU officials were critical of government plans in January to ease punishments for corruption. Shortly after Grindeanu's appointment that month, the biggest protests since the fall of communism erupted as hundreds of thousands of people vented their anger at the initiative. Romania is also in hot water over its budget spending.
Grindeanu, four years older than Macron at 43, heads for Paris this week to meet French Prime Minister Edouard Philippe. While Macron has threatened sanctions against countries that contravene democratic values, he's also backed integration efforts by other nations, including an endorsement Tuesday for Bulgaria's plan to adopt the euro.
Grindeanu isn't the only Romanian official on the move -- President Klaus Iohannis will meet Donald Trump in Washington on June 9. Romania, which hosts radar equipment for the U.S.'s missile-defense system, is among only a handful of countries to meet NATO's spending target, a bugbear of the American president.
"I have no doubt that the new administration in Washington will maintain the strategic partnership with Romania," Grindeanu said. "It's very important to consolidate both the European project and strengthen the strategic partnership with the U.S."