EghtesadOnline: After a tumultuous campaign that included at least three front-runners at different times as well as scandal, cyber war and terrorism, French voters get one day of respite Saturday before casting their ballots in the first round of voting.
Campaigning and poll publication was halted by law at midnight Friday and voting begins in mainland France Sunday at 8 a.m local time. The pause is enforced in order to give voters time to reflect on their choice. Results will be released starting at 8 p.m. Sunday and the top two finishers of the 11 candidates will go into a runoff that will be decided on May 7.
According to Bloomberg, the campaign overturned traditional French politics in a number of ways. Centrist Emmanuel Macron, 39, became the front-runner even though the party he founded is barely over a year old and he has never before run for elective office. Jostling with him for first place was Marine Le Pen, 48, who moved her father's National Front party from unacceptable in polite society to the center of the conversation -- if still holding anti-immigration and anti-euro positions.
Francois Fillon, 63, of the Republicans, the center-right establishment party, lost his lead position in the polls after a legal tussle over whether he hired his wife for a parliamentary staff job for which she did no work. And Jean-Luc Melenchon of the extreme left unexpectedly moved to fourth place in part because the 65-year-old's campaign featured extensive use of social media, not to mention campaign appearances by hologram and a video game.
Final polls on Friday showed all four within reach of qualifying for the second round.
"The election has been astonishing," said Dominique Reynie, a professor of political science at SciencesPo in Paris. "Whatever happens we are in for profound political change."
In other ways too, this campaign -- the 10th presidential election under current rules -- has been unlike any other since Charles de Gaulle ushered in France's Fifth Republic in 1958. Both the parties that have governed France in that half-century held primary contests to select their candidates for the first time. And both may be ejected in the first round of voting on Sunday.
Bloomberg's composite of French polls shows Macron has 24.5 percent support, while Le Pen holds in second place with 22.5 percent. While Fillon and Melenchon have the backing of 19.5 percent and 18.5 percent of the electorate respectively, the margins of error leave room for an upset, pollsters say. Socialist Benoit Hamon, whose party currently controls the presidency and the parliament, is at 7 percent.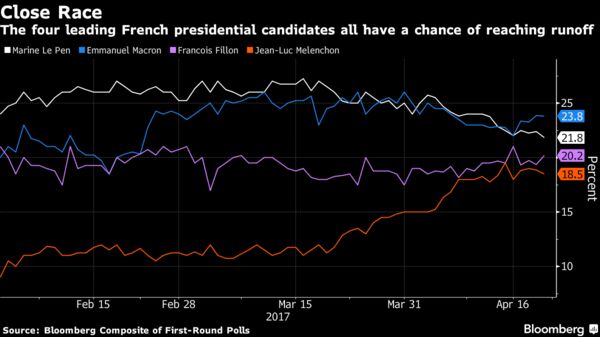 An extra element of uncertainty entered the campaign late Thursday when a terrorist shot one policeman and injured two others in the center of Paris. The assailant was shot and killed as he tried to escape.
The results may be so close that campaign officials for Le Pen and Fillon said it may not be clear which of the two candidates qualifies for the May 7 run-off, with the assumption being that Macron will qualify.
"It's possible that there will be three names at 8 p.m. on Sunday and that the two who qualify will be clear only later," said Fillon's campaign chief of staff, Vincent Chriqui. "I think three of the four leading candidates have a chance of making it through the first round. I don't think Melenchon will get through." He was echoing remarks by Le Pen aide Wallerand de Saint Just.
Surveys show Le Pen would eventually lose to any rival in the runoff. A late surge in support for Melenchon, who is backed by the Communist Party, has pushed French bond yields close to a four-year high. Melenchon would lose to Macron but would beat Fillon in the runoff, polls show.
Here's a brief rundown of what happens when, in Paris's time zone:
* Saturday: voting begins in some overseas territories, including Guadeloupe and Martinique
* 8 a.m. Sunday: polls open in mainland France.
* 12 p.m. Sunday: Interior Ministry releases first details of turnout
* 5 p.m. Sunday: Interior Ministry updates turnout figures
* 7 p.m. Sunday: polls close outside major cities, counting begins
* 8 p.m. Sunday: Final polls close. Both the Interior Ministry and pollsters who participate in counts publish preliminary results. Historically these numbers have immediately showed who the finalists were, though races have rarely been this close, with this many candidates. Pollsters, among others, have struggled to cope with the tightness of the race and the high proportion of undecideds.
* Results will roll in throughout the evening, but how long is anyone's guess. Pollsters say Sunday's final result may take hours after polling places shut their doors. Bloomberg's composite of polls shows a 1.5-point gap between Macron and Le Pen, followed by a 3-point gap between Le Pen and Francois Fillon. Fourth-placed Melenchon is just one point behind. If voters are equally divided, it could be a long night.