EghtesadOnline: Francois Fillon is reviving his fight to beat Emmanuel Macron to the French presidency after two weeks struggling to contain the fallout from a financial scandal.
Former Prime Minister Fillon returned to the campaign trail in Troyes, eastern France, on Tuesday flanked by former Finance Minister Francois Baroin after apologizing to voters in an hour-long press conference at the start of the week. He's due to appear south of Paris Wednesday with another ex-premier, Jean-Pierre Raffarin, Bloomberg reported.
Opinion polls released Tuesday showed support for Fillon holding steady for a third day after tumbling by about a third since the first reports last month that his wife had earned a public salary as a parliamentary aide without doing any work. He remained about 2.5 percentage points behind Macron in the battle to face National Front leader Marine Le Pen in the run-off on May 7. Surveys suggest both Fillon and Macron would beat the anti-euro nationalist comfortably.
"My objective is full employment in France," Fillon told supporters in Troyes, as he sought to change the subject from his family's affairs. "That way we will recover confidence in ourselves."
Fillon, who began the year as front-runner in the French presidential contest, has seen his poll numbers slide after reports that he used public funds to pay his wife and children as parliamentary assistants during his years as a lawmaker. Many analysts and even some of his own lawmakers were predicting the scandal would end Fillon's candidacy before his address on Monday.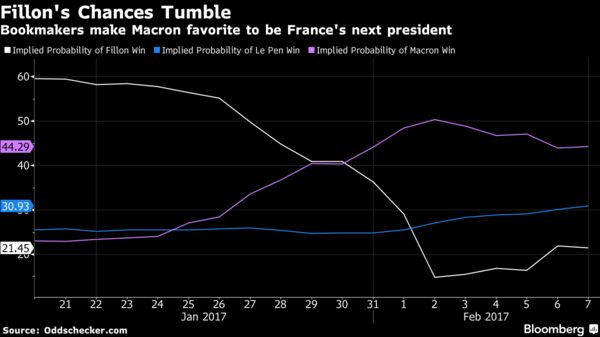 The early signs indicated that Fillon's gambit may have some success. Republican lawmaker Georges Fenech was urging the candidate to step aside last week. After Monday's press conference, in which Fillon confirmed the broad lines of the allegations, while reminding voters that the arrangements were perfectly legal, Fenech offered the candidate his backing.
'It Could Work'
The conservative daily Le Figaro reported Wednesday on its front page that Fillon's apology has quelled the unrest within the Republican camp.
The candidate repeated his mea culpa in a letter to voters published in the newspaper Ouest-France late on Tuesday, saying that he'd never been tainted by scandal during 32 years in public life, but that he'd made a "mistake" employing members of his family.
"Fillon has done everything to save his candidacy," said Frederic Dabi, a pollster at research company Ifop. "It could work."
On Tuesday, the satirical newspaper Le Canard Enchaine reported that Penelope Fillon was awarded redundancy packages on two separate occasions when leaving posts as a parliamentary aide, the third straight week that the paper has published details of the family's affairs. Fillon dismissed the report as "lies" in a statement and challenged the Canard's calculations.
Macron Rumor
As Fillon's prospects looked up, Macron made a surprise appearance at a Paris rally where he sought to squash rumors of an extra-marital affair. The independent candidate, who previously served as economy minister under Socialist President Francois Hollande launched a rare attack on his rival -- though he targeted Fillon's record in government rather than the doubts about his integrity.
"You don't have to take budget lessons from a man who declared the state was bankrupt on the first day he was prime minister and left five years later with 600 million euros ($640 million) in additional public debt," Macron said. "His project is a conservative one, he isn't preparing France for the future."
Macron also tackled speculation of an extra-marital affair head on. The 39-year-old insisted his wife, Brigitte Trogneux, who is more than 20 years older, shares every aspect of his life and dismissed suggestions that he is having a relationship with Mathieu Gallet, president of Radio France.
The Ifop daily rolling poll on showed Fillon on 18.5 percent for the third straight day while Macron was unchanged from Monday on 21 percent. Le Pen has climbed 2 points to 26 percent since the start of the month. Like all other pollsters, Ifop projects that the anti-euro candidate would lose heavily in the second round of voting. Even so, her growing strength has spooked markets.
The extra yield that investors demand to hold the French government's 10-year bonds instead of German bunds reached 77 basis points on Monday, its highest in more than four years and up by a third since the beginning of the year. On Tuesday the spread was 76 basis points.