EghtesadOnline: Requiring U.K. consumers to pay 5 pence (7 U.S. cents) for a plastic shopping bag yielded almost a 90 percent drop in their use.
Charging people for choosing a plastic bag may be good news for the planet's seas. Around eight million tons of plastic makes its way into oceans each year globally, which is ingested by 31 species of marine mammals and more than 100 species of sea birds, the Department for Environment, Food and Rural Affairs said in a statement on Saturday.
According to Bloomberg, the change in consumer behavior was registered in results submitted by the U.K.'s seven main retailers. They gave away 7.6 billion bags in 2014. When large shops were required to start charging in October, only 500 million were sold in the next six months, according to DEFRA, which expects a billion plastic sacks sold in the full year. Tesco Plc and J Sainsbury Plc are among the country's top retailers.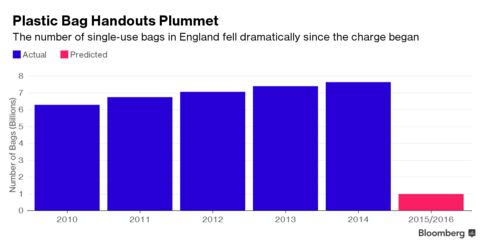 Source: DEFRA
"Taking six billion plastic bags out of circulation is fantastic news for all of us," said Environment Minister Therese Coffey in the statement. "It will mean our precious marine life is safer, our communities are cleaner and future generations won't be saddled with mountains of plastic."
England last year joined a growing number of countries and regions seeking to curb the use of single-use plastic bags blamed for littering oceans and fueling demand for more climate-change inducing oil consumption. Bangladesh, Italy, China and South Africa have banned bags, while other countries had already charged levies to deter shoppers from taking them home.
Shops raised more than 29 million pounds from the levy in the first six months, which has been donated to charities and community groups, DEFRA said.
The drop in England's plastic bag use follows similar successes in the rest of the U.K. Wales recorded a 78 percent drop in the number of bags used since introducing a charge in 2011, while Northern Ireland saw use fall by 81 percent, according to the government-backed organization, the Waste and Resources Action Programme.
By reducing plastic bag usage, DEFRA expects a net 780 million pound benefit to the U.K. economy over 10 years.