EghtesadOnline: As Russia gets ready for talks on cooperation with OPEC on Monday, it's using the playbooks of Iran, Iraq and Venezuela to gain leverage.
Just days before Energy Minister Alexander Novak heads to Vienna for discussions that could include output curbs, Russian officials emphasized the nation's ability to keep increasing record output to even loftier heights. They were echoing several other OPEC member that claim the group is underestimating their own production -- a strategy that could secure them advantageous terms in any supply deal, according to Bloomberg.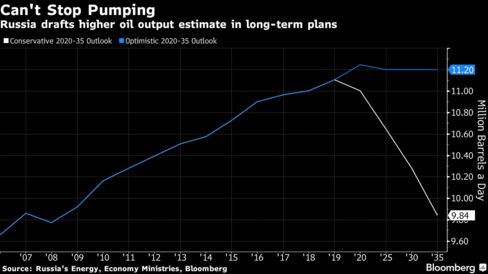 "What most OPEC countries do ahead of any OPEC meetings is to talk up their own production prospects so that when they make any concessions, those concessions are not necessarily as big as they might have been," James Henderson, senior research fellow at the Oxford Institute for Energy Studies, said by phone. "I suspect Russia is playing the same game."
After reaching a surprise agreement on the first production cuts in eight years last month, OPEC is now trying to establish which members will reduce output, and by how much. Russia, which is vying with Saudi Arabia for the title of the world's largest oil producer, has pledged cooperation, but President Vladimir Putin has sent mixed messages over whether he's willing to lower the nation's output, or simply freeze at September's post-Soviet record. These details, due to be finalized by OPEC's Nov. 30 meeting, will determine whether the deal can finally end three years of oversupply.
New Optimism
The latest draft of Russia's energy strategy published recently on the ministry's website included for the first time this year an "optimistic" scenario. This estimate sees annual oil production potentially rising from 534.1 million tons last year to 555 million metric tons, or 11.1 million barrels a day, by 2020 and stabilizing through to 2035. It compares with the existing "conservative" outlook for production of 548 million tons in 2020 declining to 490 million tons by 2030.
Igor Sechin, a close adviser of Putin and chief executive officer of Russia's largest oil producer Rosneft PJSC, went several steps further on Oct. 20, saying Russia has thecapacity to add as much as 200 million tons of annual production capacity, or 4 million barrels a day, by 2045 should the global market need it.
Strategic Plans
Russia's energy minister said long-term forecasts have little bearing on the negotiations with OPEC. Even if an agreement is reached there's no need for the nation to change its energy strategy, Novak told reporters at an industry forum in Ufa, Russia.
"The freeze, it won't last forever, it will be there for a limited time, maybe for six months", he said. "So it does not affect our strategic plans in any way."
Nevertheless, he implied short-term increases are negotiable. Russia's annual production could set another post-Soviet record of 548 million tons, or about 11 million barrels a day, next year, although the plan may be adjusted if there's an OPEC deal, Novak said. Output has averaged 10.9 million barrels a day this year, according to Energy Ministry data.
"Russia is trying to create a very optimistic story of a healthy oil industry" to pursue its own goals in upcoming negotiations, something OPEC nations also do, Chris Weafer, a partner at Macro Advisory consultancy in Moscow, said by phone. "It's like a game of poker where everybody is very focused on their own hand".