EghtesadOnline: An agreement among OPEC and non-OPEC states to limit oil production could slash global supply by 1.2 million barrels a day and add as much as $15 to prices, said Venezuelan Oil Minister Eulogio Del Pino.
Members of the Organization of Petroleum Exporting Countries would collectively cut output by 700,000 barrels a day under the accord hashed out last week in Algiers, while non-OPEC states would reduce production by another 500,000, Del Pino said in an e-mailed statement Tuesday. The deal, which will remain in effect for six months, will boost oil prices by $10 to $15 a barrel above the average September price, he said.
Crude futures in New York have surged more than $4 a barrel since OPEC surprised traders by agreeing to cut production for the first time in eight years. Futures surpassed $49 a barrel for the first in time in three months on Monday. But the deal comes as output reaches historical highs in and out of the group that accounts for about 40 percent of global supplies, according to Bloomberg.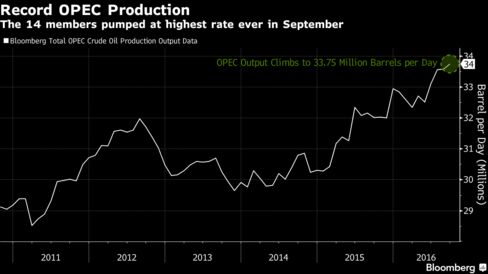 OPEC output rose by 170,000 barrels a day to a record 33.75 million in September, according to a Bloomberg survey. The increase from the previous month was driven by the return of production from Libya and Nigeria. Those countries, along with Iran, will likely be exempt from the deal reached last week in Algiers.
In Russia, the world's largest energy exporter and not an OPEC member, crude and condensate output rose to a post-Soviet record of 11.11 million barrels a day in September, according to the country's Energy Ministry. Russia and Saudi Arabia will soon set a date and place for a meeting to discuss oil production, Russian Energy Minister Alexander Novak said Tuesday.
A two-year OPEC policy of producing crude at will pushed the market into its worst rout in a generation, shrinking national budgets, eroding foreign reserves and triggering currency crises in oil-exporting countries. Non-OPEC nations discussing output curbs with Venezuela include Russia and Azerbaijan, Del Pino said on Tuesday.