EghtesadOnline: German coal-fired power plant closures are poised to accelerate as dwindling margins prompt utilities to retire the stations early.
According to Bloomberg, a quarter of hard coal-fired generation capacity in Europe's largest economy may shut ahead of schedule if plant operators forgo spending on upgrades to keep aging stations open, according to Nena AS, an Oslo-based energy consulting firm. Steag GmbH, the nation's fifth-biggest power producer, is considering shuttering at least five of its 13 German coal stations before plan, Juergen Froehlich, a spokesman for the utility, said by e-mail.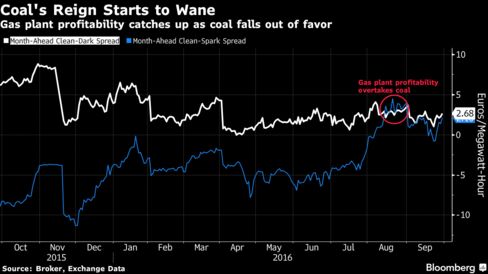 As German coal plant profitability lingers near its lowest levels in at least five years, other utilities may follow Steag, helping ease a surplus of generating capacity exacerbated by the rise of renewable energy, according to Goldman Sachs Group Inc. While utilities have shut about 18 percent of Germany's current hard coal-fired capacity since 2011, only 9 percent more is slated to close through 2019, according to consultants Pira Energy.
"You have a lot of old hard-coal plants in Germany and you need to take investment decisions now if you want to continue operating them," Bengt Longva, a senior analyst at Nena, said by phone.
Dark Spread
The clean-dark spread, a measure of coal-plant profitability, for next month in Germany dropped 57 percent in the past 12 months to EU2.80 per megawatt hour, a third of the five-year average for this time of year, according to broker data compiled by Bloomberg. At the same time, gas-fired generation margins have recovered to 2.86 euros per megawatt hour from minus 8 euros.
"We have seen some resilience for coal, but dark spreads have been narrowing and along the curve I don't see how these units will be running next year," said Bruno Brunetti, a director of electricity at Pira in New York. "Recovery of costs is now becoming a real issue."
While fuel prices have risen this year, coal has climbed faster than natural gas. This spurred a 15 percent jump in German gas-fired generation as of July, compared with a decline of 16 percent in hard-coal plant output, according to German utility lobby BDEW. Hard coal makes up about 18 percent of the country's generation.
Even with German power prices slumping the lowest in more than a decade, total installed generation capacity has increased by more than 50 percent to 195 gigawatts since 2006 due to the surge in renewables, according to the Fraunhofer ISE research institute. Fossil fuel-plant capacity fell 11 percent in the same period. A gigawatt is enough to power 2 million European homes.
"The industry is reacting at last," Goldman Sachs analysts wrote in a Sept. 13 note. More utilities may follow Steag's move, "further improving the outlook for supply and demand," they wrote.
In addition to Steag's mooted closures of some of its own plants, the utility and RWE AG, Germany's largest electricity producer, decided to shut their co-owned Voerde A and Voerde B coal units by April next year.
"What's happening in Germany is a game of chicken," said Andreas Gandolfo, an analyst at Bloomberg New Energy Finance in London. "If someone else shuts their power plant first, you benefit."