EghtesadOnline: As one door for turning Egyptian pounds into dollars slams shut, investors are forcing open another.
Overseas shares of EFG-Hermes Holding have sprung into life in the past three months, as institutions desperate for hard currency buy the investment bank's equity locally in Egyptian pounds and sell it in London for dollars. Underscoring the urgency -- and the paucity of options after a similar trade in the country's biggest listed bank maxed out -- investors take a loss of more than 30 percent on the conversion, according to Bloomberg.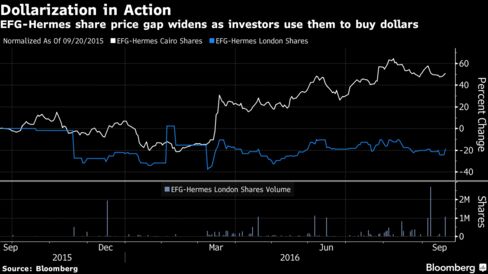 With Egypt closing in on a $12 billion International Monetary Fund lifeline, the country's second major devaluation this year looks inevitable to many economists. The government is keeping a grip on the pound through currency controls, and only allows banks to sell hard currency to importers of basic foods, medicine and machinery. The penalties for trading in the black market have just been increased to include jail sentences of up to 10 years.
"Multinationals are desperate to get millions of dollars out, whether to buy raw materials or repatriate profits," said Khaled Darwish, an executive director at Cairo-based CI Capital Asset Management. "Converting EFG-Hermes shares is a solution, albeit a very expensive one. The only way to relieve this pressure is for Egypt to allow market dynamics to work and float the pound. Nothing short of this can have a positive outcome."
Trade and Industry Minister Tarek Kabil on Tuesday became the latest government official to tout the benefits of a flexible exchange rate, saying the pound would "eventually" be free-floated and that the move would have a positive impact on the economy in the long term. In July, when Egypt's foreign reserves plunged by the most almost five years, Central Bank Governor Tarek Amer said the regulator's defense of the currency had been a "grave mistake."
Social Unrest
The buying of shares in EFG-Hermes domestically to sell them on London's market as global depository receipts, or GDRs, is becoming a more popular dollar-acquisition method for investors after similar transactions in Commercial International Bank Egypt, the country's largest listed lender, reached regulatory limits. Under Egyptian rules, the proportion of any company's stock accounted for by GDRs mustn't exceed one-third of all its equity. They make up 13 percent of EFG-Hermes' total stock, about a third more than a year ago, according to bourse data.
Egypt started exerting more control over its currency in 2011 in the wake of a popular uprising that toppled President Hosni Mubarak. The nation, almost half of whose population lives below or near the poverty line, sought to avoid a weaker pound fueling inflation and potentially provoking more social unrest.
"People always find a way around capital controls, even if it's at a great cost to themselves," said Jean-Paul Pigat, senior economist at Dubai-based Emirates NBD PJSC, the United Arab Emirates' largest bank. "The problem isn't money going out of the country, it's the lack of money coming in. The first step in Egypt's recovery has to be letting the exchange rate go to a level that investors feel is credible so that they can start investing again."
Black Market
While the government has devalued the pound 12 percent in the official market this year, the biggest depreciation of any Middle Eastern currency after the Yemeni rial, in the black market it has weakened 33 percent, according to Bloomberg's weekly survey of currency traders.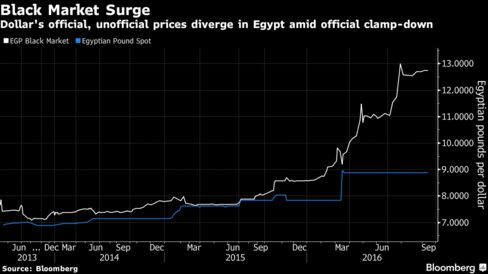 EFG-Hermes shares in London are averaging almost $600,000 of daily trades this quarter, more than three-times a year earlier. On Sept. 7 alone, more than $5 million of the stock changed hands in the British capital. In 2015 it saw no trades for almost the whole month.
Demand has stoked the Egyptian-listed securities by 15 percent since June, while selling pressure has pushed the GDRs down 1.6 percent. For investors undertaking the conversion to get dollars, that translates into an exchange rate of 13.18 Egyptian pounds per dollar as of Tuesday. The official rate has been pegged at 8.88 Egyptian pounds per dollar since March.
More GDRs
There are 14 Egyptian companies that have GDR programs, and the shares of 10 are still eligible for the conversion, according to bourse data. Most of them can go days or weeks without a single trade.
Still, four more companies -- Medinet Nasr Housing, Arabian Food Industries, Pioneers Holding and Beltone Financial -- have started or announced plans to start their own programs in the past three months. Arabian Food, also known as Domty, said this week it expects its GDRs to trade in London starting Wednesday.
"We want to widen our shareholder base and enhance liquidity," Mohamed El Damaty, the Cairo-based company's deputy chief executive officer, said in an interview last month. "A lot of foreign investors are reluctant to enter without GDRs, especially now."