EghtesadOnline: Oil rose after government data showed U.S. crude inventories declined to the lowest level since February.
Futures climbed as much as 3.3 percent in New York. Crude stockpiles fell 6.2 million barrels last week, according to the Energy Information Administration. That contrasts with the 3.25-million barrel gain forecast by analysts surveyed by Bloomberg and a 7.5 million barrel decrease reported Tuesday by the industry-funded American Petroleum Institute. Prices also rose after Algeria said OPEC may turn its informal talks next week into a formal session, reports Bloomberg.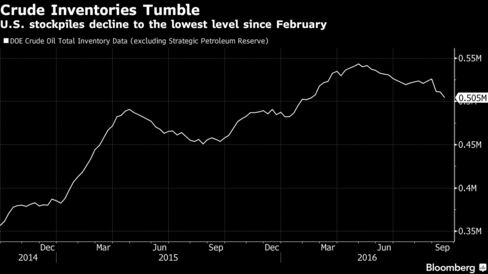 "The inventory number is quite bullish," said Cavan Yie, senior equity analyst at Manulife Asset Management Ltd. in Toronto. "You might have to take these numbers with a grain of salt. The import, production and refining numbers don't point to an inventory drop."
Oil has fluctuated since August's rally on speculation the Organization of Petroleum Exporting Countries and Russia will agree on ways to stabilize the market at the meeting. While Venezuelan President Nicolas Maduro said members are close to a deal, all but two of 23 analysts surveyed by Bloomberg said an agreement to limit production isn't likely. A deal to freeze output was proposed in February but a meeting in April ended with no final accord.
West Texas Intermediate for November delivery rose $1.06, or 2.4 percent, to $45.11 a barrel at 12:30 p.m. on the New York Mercantile Exchange. Total volume traded was 16 percent above the 100-day average.
Ample Stockpiles
Brent for November settlement advanced 84 cents, or 1.8 percent, to $46.72 a barrel on the London-based ICE Futures Europe exchange. The global benchmark traded at a $1.66 premium to WTI.
U.S. crude supplies fell to 504.6 million in the week ended Sept. 16, according to EIA data. Inventories reached 543.4 million barrels in the week ended April 29, the highest since 1929. Stockpiles remain at the highest seasonal level in more than 20 years.
Crude imports rose 3.1 percent to 8.31 million barrels a day last week. Production increased 0.2 percent to 8.51 million barrels a day.
Refineries cut operating rates by 0.9 percentage point to 92 percent of capacity, the lowest level since June. Plants usually cut back on operations in September and October after the peak-demand driving season comes to an end.
Colonial Pipeline
The shutdown of Colonial Pipeline Co.'s Line 1 resulted in a record decline of gasoline supplies on the East Coast and the all-time biggest gain on the Gulf Coast. Stockpiles along the East Coast, known as PADD 1, slipped 8.48 million barrels to 55.5 million. Inventories surged 4.77 million barrels to 83.7 million on the Gulf Coast, known as PADD 3.
Colonial plans to restart the largest U.S. gasoline line late Wednesday, ending almost two weeks of curtailed shipments that have driven up pump prices and wiped out supplies at gasoline stations in the East and Southeast.
Gasoline futures for October delivery climbed 2.2 percent to $1.3944 a gallon. October diesel rose 1.4 percent to $1.4241.
OPEC ministers can transform their gathering into an extraordinary meeting since they'll all be present, Algerian Energy Minister Noureddine Bouterfa said on public radio. Supply needs to be cut by 1 million barrels a day to rebalance the market and stabilize prices.
Substantive Agreement
"The chances of something happening are increasing," said Jamie Webster, a fellow at the Center on Global Energy Policy at Columbia University in New York. "It's still not likely to be a substantive agreement. But we are moving in the right direction to where they might actually do something."
The dollar slipped before a Federal Reserve policy decision later today. Investors will be looking to the U.S. for any signals regarding the timing and pace of future Fed hikes, with all but four of 102 economists surveyed by Bloomberg predicting policy makers will hold off from raising interest rates. A falling greenback bolsters the appeal of commodities priced in the U.S. currency as an investment.
"If the Fed comes out with a bullish statement it will be negative for oil because of the dollar," said Phil Flynn, senior market analyst at Price Futures Group in Chicago.
Oil-market news:
The oil tanker Seadelta left Libya's Ras Lanuf port loaded with 781,000 barrels of crude, heading for Italy, according to a port official.
Petroleo Brasileiro SA reduced investments by 25 percent and is accelerating asset disposals as it downsizes to withstand low oil prices amid Brazil's deepest two-year recession on record.