EghtesadOnline: Egypt's foreign-currency reserves dropped to the lowest level in 16 months in July after authorities repaid about $2 billion in debt, highlighting the pressure the government is facing as it seeks a $12 billion International Monetary Fund loan.
According to Bloomberg, net international reserves dropped by more than 11 percent, the most in 16 years, to $15.5 billion, official data show. The central bank said it repaid $1.02 billion for Qatar's holding of Egypt's sovereign Eurobonds, $714.4 million to Paris Club creditors as well as the first installment of a Libyan deposit with the regulator.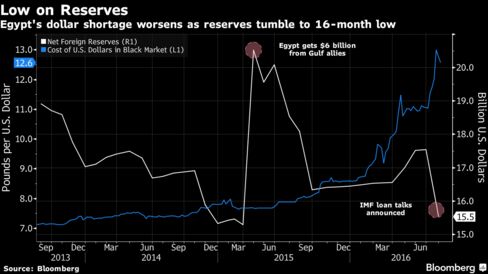 The drop adds to the urgency of Egypt's talks with the IMF to finance a government program designed to secure additional aid and attract foreign investors. The administration is attempting to revive an economy that has struggled to recover since the 2011 revolt that ousted Hosni Mubarak.
The dollar crunch that has gripped Egypt since then has hampered business activity and created a black market where the pound is trading almost 30 percent below its official rate.
The drop in reserves "goes to show that balance of payments pressures are still quite pronounced in Egypt," said Jean-Paul Pigat, senior economist at Dubai-based Emirates NBD. "There's significant pressure on the Egyptian pound to be devalued, and now it's just a matter of getting the timing of the move right."
The central bank will probably devalue the pound after receiving part of the IMF funds as well as assistance from other donors, said Pigat. At that point it should have enough cash to defend the currency, he said. Policy makers weakened the pound by about 13 percent in March.
Reserves now make up the equivalent of about months of imports, according to Bloomberg calculations. That compares with almost nine months at the end of Mubarak's rule.
Egypt's benchmark EGX 30 Index for stocks has gained 10 percent since the July 26 announcement of IMF negotiations. That compares with almost 3 percent for MSCI Inc.'s emerging-markets index.
The nation's 5.875 percent Eurobonds due in 2025 rose for a fifth day, sending the yield down five basis points to a 10-month low of 6.71 percent as of 10:46 a.m. in Cairo.