EghtesadOnline: Countries in the Middle East and North Africa led by Egypt, Kuwait and Morocco are boosting liquefied natural gas import capacity, taking advantage of low prices to meet rising energy demand.
According to Bloomberg, the region plans to add permanent terminals and temporary, off-shore units that will increase annual capacity by 58.2 billion cubic meters in 2021, energy lender Arab Petroleum Investment Corp. said in a report. Capacity was 39.1 billion cubic meters at the start of 2016, according to a March publication of the International Group of Liquefied Natural Gas Importers, a Paris-based industry group. Arab Petroleum didn't provide current figures. Based on the two sets of figures, annual capacity in the region would increase to 97.3 billion cubic meters in five years.
New output from Australia and the U.S. is adding to an LNG glut, dragging the Northeast Asia LNG price down to an average of $5 per million British thermal units this year from $14 in 2014, according to assessments by New York-based World Gas Intelligence. Growing demand and a lack of cross-border pipelinesin the region prone to conflict are making the Middle East and North Africa a growth market for the fuel. The region will account for 6.5 percent of global LNG demand by the end of 2017, up from about 1 percent in 2013, according to Apicorp.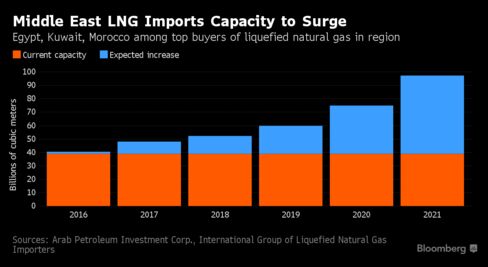 "The current market conditions – an abundance of cheap supply – will also encourage MENA countries to think more strategically about gas's role in their energy mix," Apicorp said. Lower prices should "incentivise new MENA importers to do more to ensure they do not miss the opportunity to install import infrastructure and sign cheap and flexible LNG deals."
Qatar Exports
Qatar, the world's largest LNG exporter, supplied 40 percent of the fuel imported by countries in the region last year, according to Apicorp. Globally, it meets about a third of demand. MENA countries will invest about $10.3 billion in LNG importing facilities in the "medium term" to meet growing demand, it said. Chartering ships to store and regasify the fuel will become more popular as floating storage is less expensive than permanent onshore terminals, Apicorp said.
The lender, based in Dammam, Saudi Arabia, is owned by the Organization of Arab Petroleum Exporting Countries, with Saudi Arabia, Kuwait and the United Arab Emirates each owning 17 percent, according to its website. It had assets of $5.7 billion at the end of last year, Apicorp said in its annual statement.