EghtesadOnline: President Donald Trump promised Theresa May that the U.K. will be able to continue to trade with the U.S. on the same terms it does now when it leaves the European Union, according to the prime minister's office.
The offer, made over lunch Friday at the White House after their joint news conference, is designed to offer businesses certainty as they prepare for Brexit. The leaders also agreed to begin work on a trade negotiation agreement, preparing the ground for a deal once Britain is allowed to make its own arrangements -- something it cannot do while still a member of the EU. The U.S. is Britain's biggest national trading partner, Bloomberg reported.
In the meantime, various measures are being considered, including mutual recognition of qualifications, removal of mobile-phone roaming charges, and elimination of blocks on the trade of some agricultural goods, according to an official who asked not to be identified before a formal announcement.
"This is the first step leading to a future trade deal with the U.S. which could provide huge benefits to our economic muscle and will give businesses additional certainty and confidence," May said in a statement.
The U.S. receives 47.3 billion pounds ($59.4 billion) of U.K. goods a year, exceeding Britain's next largest partner, Germany, by almost 17 billion pounds, according to a U.K. government report.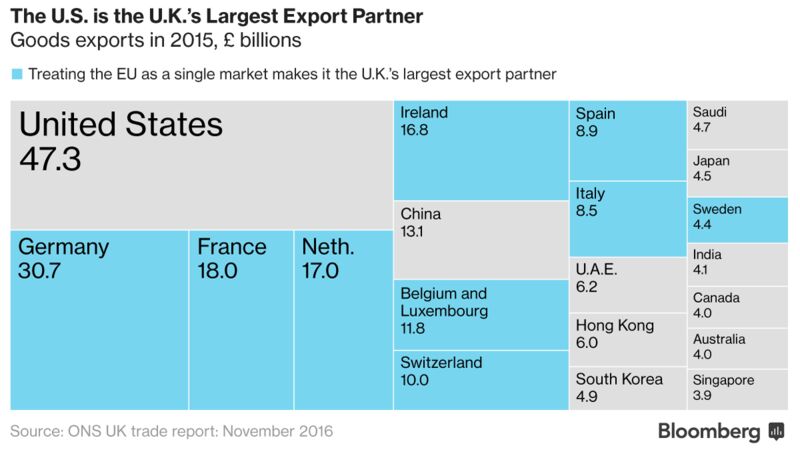 The U.S. and U.K. will establish joint working groups to scope out what can be achieved before Brexit. The idea of the negotiation agreement, according to May's office, is to resolve outstanding questions about what could be covered in a free-trade agreement.
May's office said that the conversation over lunch had focused on the Brexit vote, which Trump told May was going to be wonderful for Britain. They also discussed at length the relationship between their respective countries' 1980s leaders Ronald Reagan and Margaret Thatcher.
At the end of the lunch, according to May's office, Trump told the U.K. premier that he liked to keep menu cards as souvenirs. He then handed that day's card to a member of staff with instructions to keep it safe, in memory of the time he had lunch with the British prime minister.