EghtesadOnline: China's official factory gauge stabilized near a post-2012 high in December, capping a year of steady improvement and signaling policy makers have leeway to curb financial risks while keeping growth humming. The services gauge remained elevated. Input prices jumped.
Key Points
Manufacturing purchasing managers index stood at 51.4 last month, compared with a median estimate of 51.5 in a Bloomberg survey of economists and 51.7 the prior month
Non-manufacturing PMI was at 54.5 versus 54.7 in November; numbers higher than 50 indicate improving conditions
Factory input prices rose to a five-year high of 69.6 and services input prices rose to a three-year high of 56.2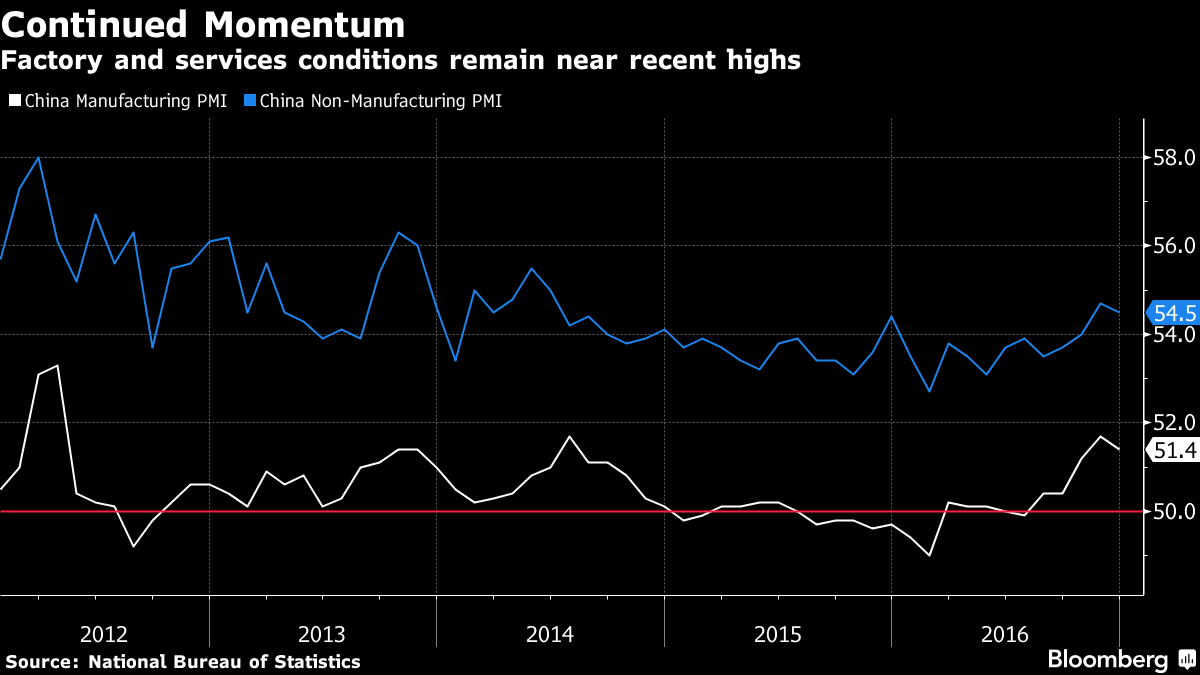 Big Picture
According to Bloomberg, the gains add to evidence of year-end strengthening that's giving authorities room to pursue economic rebalancing. Early private indicators for December show large and small firms saw stronger momentum as sentiment among executives improved. China's expansion picked up to about 7 percent last month, a monthly tracker by Bloomberg Intelligence shows.
Economist Takeaways
"Improving external demand and a weaker yuan are supporting businesses, and the reading suggests stronger growth in the last quarter than previous months," said Ding Shuang, chief China economist at Standard Chartered Plc in Hong Kong. "Big companies usually recover sooner than small ones when the economy stabilizes, which eventually will transmit to all kinds of businesses, though this year could be a mixed picture for small firms as greater fiscal support benefits large companies more."
The manufacturing gauge eased "largely due to softer output and lower inventories," Zhou Hao, an economist at Commerzbank AG in Singapore, wrote in a report. "Today's PMI figures suggest that the change of policy tones has taken its toll, as the authorities are seriously concerned about the asset bubbles."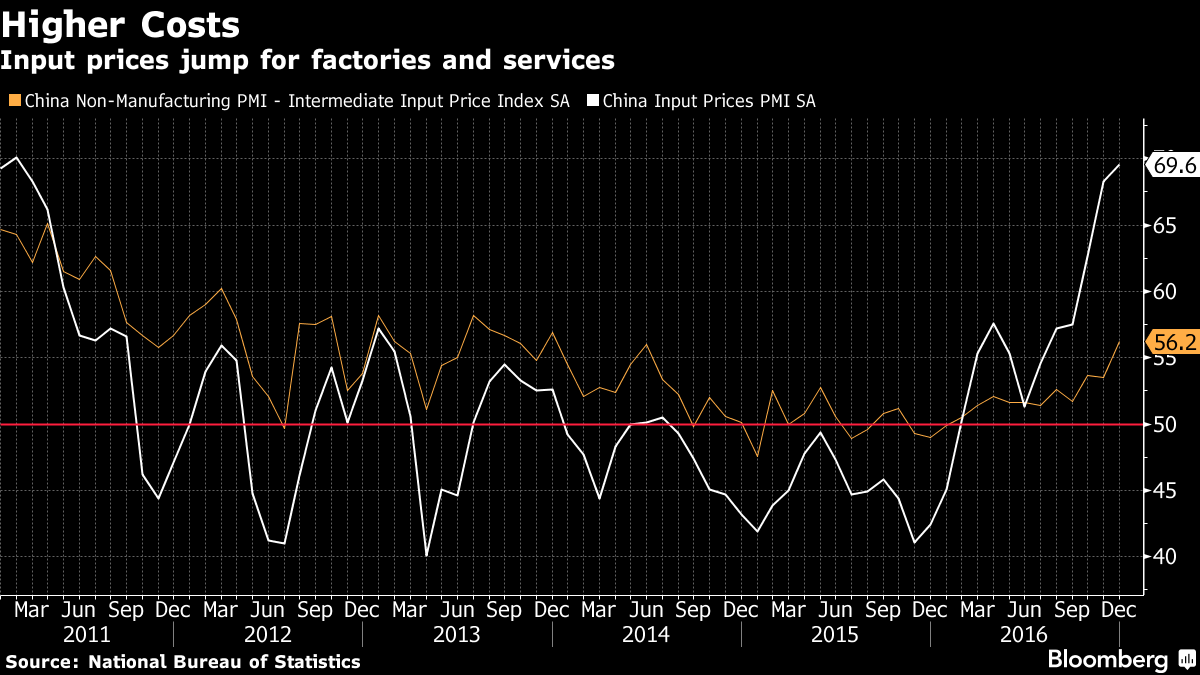 The Details
November factory PMI matched a post-2012 high
The data indicate improving market demand, stronger momentum in technology and robust consumption before the new year, the National Bureau of Statistics said Sunday in a supplementary statement
The cost of raw materials and logistics is the highest in recent years and is certain to impact business operations as rising corporate costs are squeezing profits, the NBS said
Large companies remain the main support for stabilization, while the indicators for medium- and small-scale businesses have slumped below 50, the NBS said
Steel industry PMI fell to 47.6 from 51 as output, new orders and new export orders all fell from November