EghtesadOnline: The euro clawed back losses and equities climbed as contagion from political turmoil in Italy was contained.
The common European currency pared declines, after reaching its weakest point in 20 months. Italian Prime Minister Matteo Renzi quit after losing a referendum he'd called to rein in the senate's power. European shares headed for the biggest gain in a month, even as Italian banks sustained losses and the cost of insuring their bonds against default jumped. Gold erased earlier gains to head for the lowest close since February, while a gauge of equity-market volatility slid, Bloomberg reported.
Political risk from Italy hasn't spread beyond its borders as markets were correctly positioned for the anti-establishment mood sweeping around the world. This was a departure from the Brexit referendum and Donald Trump's surprise election, when traders were caught out by populist votes.
"After Brexit, it took three days for markets to shake it off, with Trump it took three hours, with Italy it took three minutes," said Guillermo Hernandez Sampere, head of trading at MPPM EK in Eppstein, Germany. His firm oversees $260 million. "The fast money, who expected markets to fall further with this outcome, are now covering their positions."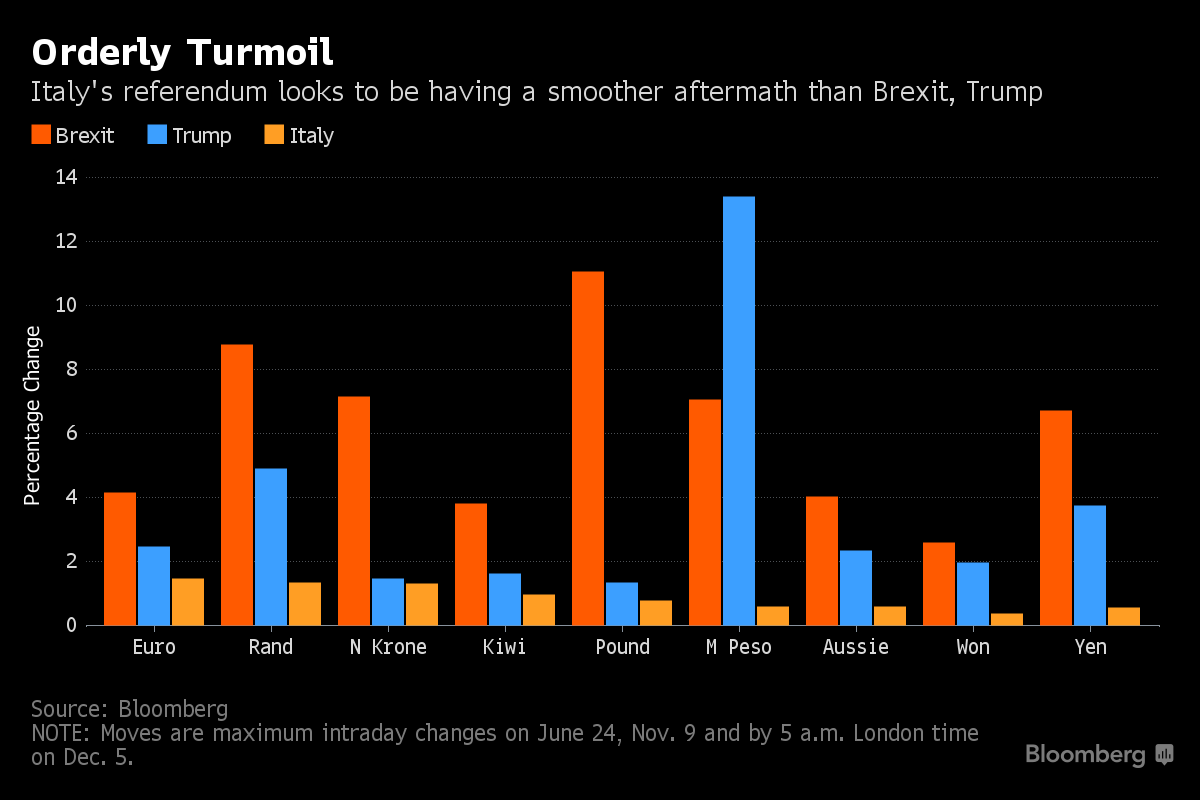 Italian lenders Banca Popolare di Milano Scarl and UniCredit SpA both slid at least 2 percent as the outcome of the referendum raised questions about the nation's plans to plug holes in the banking sector. Renzi's reforms were aimed at simplifying the legislative process in a nation that's seen 63 governments since the end of World War II.
Stocks
The Stoxx Europe 600 Index climbed 1.3 percent at 10:05 a.m. in London.
Italy's FTSE MIB Index, one of the worst-performing stock indexes in the world this year, rose 0.3 percent.
Futures on the S&P 500 Index were up 0.4 percent, after the underlying benchmark ended Friday up less than 0.1 percent.
Commodities
Gold swung fell 1 percent, extending a 0.5 percent decline last week that was its fourth straight weekly loss.
Copper for three-month delivery rallied 1.6 percent, while zinc gained 1.8 percent and Nickel rallied 1.4 percent.
Bonds
Credit-default swaps on Italy jumped 14 basis points to 186 basis points, the highest since June, according to data from CMA. Contracts cover a net $17.6 billion of Italy's debt, the most among those tracked by Depository Trust & Clearing Corp.

The cost of insuring Banca Monte dei Paschi SpA's senior bonds against losses for five years jumped 27 basis points to 482 basis points, the highest since July, according to data compiled by CMA. Credit-default swap contracts insuring UniCredit's senior bonds against losses rose 13 basis points to 224 basis points, the biggest one-day increase in almost a month, CMA data show.
Ten-year U.S. Treasury yields rose two basis points to 2.40 percent after shedding seven basis points on Friday.
Currencies
The euro weakened 0.2 percent to $1.0639, paring a slump of as much as 1.5 percent earlier in the session. Polls show an early election in Italy would see the anti-euro Five Star Movement sweep into power.
The offshore yuan lost 0.1 percent as Chinese shares declined. U.S. President-elect Trump rejected criticism of his decision to take a phone call from Taiwan's president and reiterated concerns over China's currency and trade policies to his 16.6 million Twitter followers.
The kiwi weakened 0.6 percent as New Zealand Prime Minister John Key said he'll stand down and backed Finance Minister Bill English to succeed him.
The Bloomberg Dollar Spot Index, a gauge of the greenback against 10 major peers, jumped 0.3 percent following its first weekly retreat since Trump's victory.