EghtesadOnline: Gold fell near a 10-month low as the dollar strengthened following Italy's vote against constitutional reform that prompted the country's prime minister to resign.
Bullion initially rose 0.9 percent, before falling as much as 1.3 percent to $1,162.45 an ounce as the dollar gained against the euro. While the referendum has raised concerns over Italy's future in the euro region, the nation's political and legal system means a "no" vote is unlikely to trigger a quick exit, according to Bloomberg.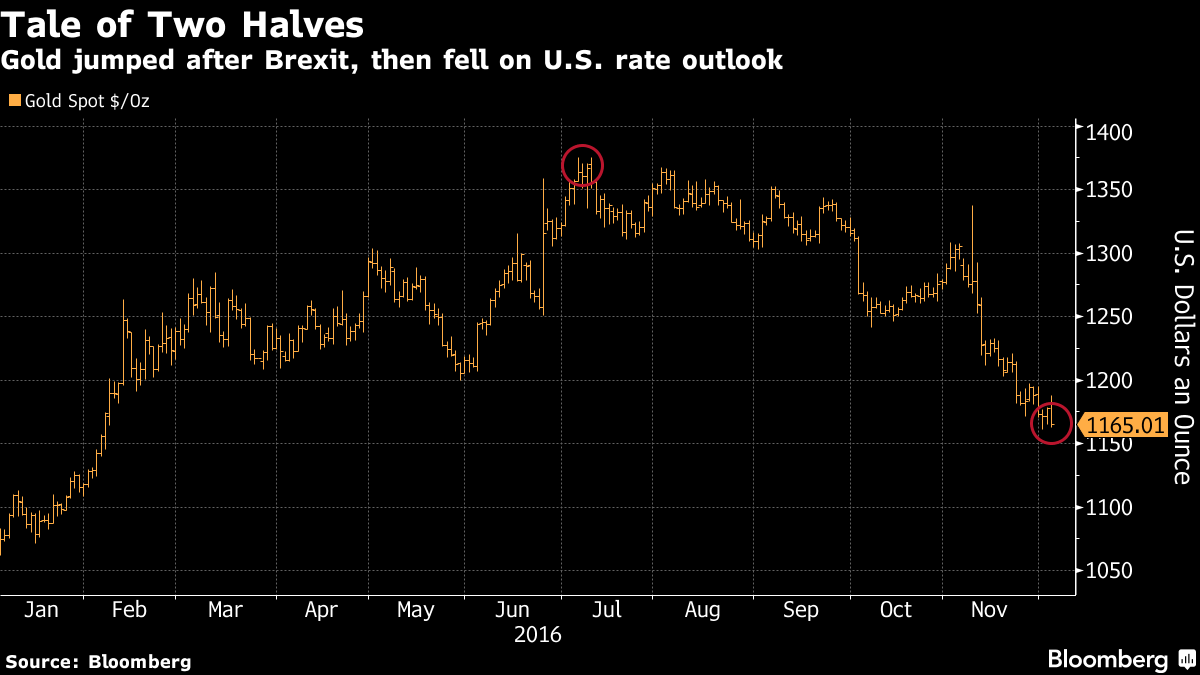 Gold has been whipsawed this year following unexpected political votes in major economies. It jumped after Britain's vote to quit the European Union in June, then tumbled as Donald Trump's presidential election last month boosted bets for higher U.S. interest rates. Prices also fell Monday as European equities and base metals advanced.
"Following the initial reaction higher, the current theme being the rotation out of precious metals into industrials has once again taken over," Ole Hansen, head of commodity strategy at Saxo Bank A/S in Hellerup, Denmark, said by e-mail. "Gold remains under pressure from liquidation of longs in futures and ETFs."
Bullion for immediate delivery was down 1 percent at $1,165.29 by 9:46 a.m. in London, according to Bloomberg generic pricing. It touched $1,160.80 on Thursday, the lowest since early February.
The prospects of higher U.S. interest rates have curbed the appeal of bullion, which doesn't pay any yield. Investors sold metal from exchange-traded funds for a 16th day on Friday, the longest run since March 2015. Holdings dropped 2.2 metric tons to 1,859.3 tons, the lowest since June, data compiled by Bloomberg show.
Money managers and other speculators are the least bullish on prices since February. They cut their net-long position on gold futures and options by 15 percent in the week to Nov. 29, U.S. government data show.
In other precious metals:
Silver fell 1 percent to $16.5776 an ounce in London.
Palladium declined 1.9 percent to $729.86 an ounce, while platinum was little changed at $928.35 an ounce.