EghtesadOnline: U.S. stocks fell to the lowest since July, breaking below chart levels that have held for four months, as concern over everything from presidential politics to Federal Reserve rate hikes and coming data on the labor market sent gauges of anxiety surging.
According to Bloomberg, the S&P 500 Index declined 0.7 percent to 2,111.72 at 4 p.m. in New York, the most since Oct. 11. The index has tumbled 1.8 percent during a six-day losing streak that's its longest since August 2015. It sank as low as 2,097.85 before a bounce, dipping below 2,100 for the first time since July 7. The Dow Jones Industrial Average slipped 105.32 points, or 0.6 percent, to 18,037.10. The Nasdaq Composite Index dropped 0.7 percent, and the CBOE Volatility Index surged 8.8 percent to the highest since June 28.
"This unbelievable election season we're going through isn't exactly engendering confidence," Richard Sichel, chief investment officer at Philadelphia Trust Co., which oversees $2 billion, said by phone. "There's more uncertainty as nervousness reaches a crescendo in the final days. Earnings season is basically over, and while it was a pretty good one, there's nothing out there to trigger an up-move."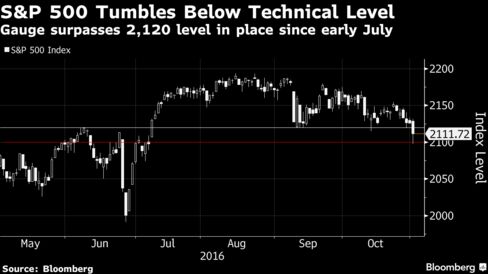 U.S. equities joined a selloff in riskier assets following an ABC News/Washington Post tracking poll that showed Republican Donald Trump with 46 percent support to Democrat Hillary Clinton's 45 percent. Gold surged more than 1 percent, the dollar weakened versus the Swiss franc, and Mexico's peso, considered an inverse proxy for Trump's election fortunes, tumbled.
Pacing the equity declines, Pfizer Inc. sank the most in three months as its quarterly profit fell short of estimates, while Apple Inc. slipped to a seven-week low to weigh on technology shares, amid signs of softness in demand in China for the iPhone 7. Occidental Petroleum Corp. dropped the most since March following its results. About 8.1 billion shares traded hands on U.S. exchanges, 25 percent more than the three-month average.
Tuesday's equity rout jolted stocks from the tightest trading range since 2006 as investors brace for market turmoil a week from one of the most contentious presidential elections in memory. Just four months removed from the U.K.'s shock decision to leave the European Union in an outcome not predicted by betting markets, anxiety levels have spiked as Clinton's once dominant lead over Trump withers in the latest polls.
"So many people have said that if Trump wins there's going to be some big downside event and with the polls tightening and revelations around Clinton, it just has traders looking to trade on the basis of that," said Jim Paulsen, chief investment strategist at Wells Capital Management. "Then it caught some momentum, because we took out some of the lows technically where we've been at since it rallied to new highs."
Hedges against a market decline surged in recent days. The CBOE Volatility Index yesterday capped its biggest monthly jump since August 2015, with the measure of market turbulence known as the VIX rising 28 percent during the period. The S&P 500 fell 1.9 percent in October, the most since a selloff at the start of the year, trimming its annual advance to 4 percent. The last time it fell below 2,100, it started a five-week rally of 4.4 percent that took it to its most recent all-time high.
Ten of 11 main industries in the S&P 500 fell Tuesday, with real estate and utility stocks leading losses with declines of at least 1.7 percent. Technology shares, the biggest group by weighting, slid 0.8 percent as Apple and Facebook Inc. dropped more than 1.1 percent.
The Fed's next monetary policy decision is due Wednesday afternoon. Traders are pricing in a 16 percent chance the central bank will raise rates tomorrow, less than a week before the Nov. 8 election, while the odds on a December move are about 70 percent.
A report Tuesday showed America's factories barely expanded last month as faster production cushioned a slowdown in orders that signals a plodding manufacturing sector. Earnings are also in focus, with 40 members of the S&P 500 reporting Tuesday. Two-thirds of the way through the season, analysts now expect third-quarter profit growth of 1.6 percent for the benchmark's constituents, after calling for declines as recently as Oct. 21. If the forecast holds, it would bring an end to the longest earnings recession since the financial crisis.