EghtesadOnline: Wolfgang Schaeuble can expect to be offered another term as German finance minister if Chancellor Angela Merkel wins re-election on Sept. 24, according to four people familiar with the government's deliberations.
Schaeuble has signaled his interest for the post and Merkel would be willing to pay a high political price to extend his tenure, the people said. All asked not to be named as no decision has yet been made and because Schaeuble's chances are likely to depend on coalition negotiations after the election, Bloomberg reported.
With his hand on the purse strings of Europe's biggest economy since 2009, Schaeuble has become one of the continent's most divisive politicians, earning plaudits and criticism alike for his role as the dominant enforcer of fiscal discipline in the euro area. As a result of the strategic power the German treasury bestows, there's no other role in government Schaeuble would take, according one of those with knowledge of his thinking.
"Wolfgang Schaeuble is a heart-and-soul politician and a man with a sense of duty," said Hans-Peter Repnik, a former Christian Democratic Union lawmaker who has known Schaeuble since university times and talks with him regularly. If Merkel offered him a rerun as finance minister, "I do believe that you could count on him once again," Repnik said.
While all polls show Merkel's CDU-led bloc is on course to win the election, they point to a coalition government requiring compromises on policy and cabinet posts. The Finance Ministry declined to comment on Schaeuble's future.
Political Longevity
Less than two weeks before the vote, Schaeuble's next move is the subject of intense speculation in Berlin given that it affects everything from possible debt-sharing in the euro area and relations with France to Merkel's domestic strength if she wins a fourth term. His sheer political longevity -- Schaeuble turns 75 next Monday, and has served 45 years as a lawmaker -- make his a European voice that commands investors' attention.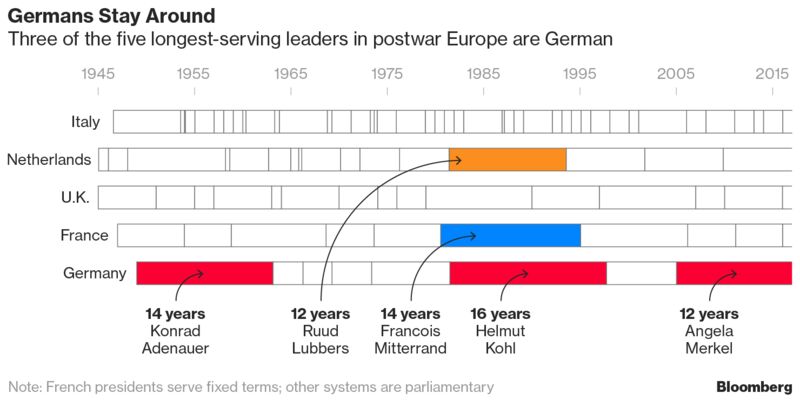 Reviled in parts of Europe during the debt crisis when he gained a reputation for an inflexible commitment to austerity, he nonetheless enjoys respect among his euro-area peers. If anything, he's now more contested at home, with two potential coalition partners already staking claims to the finance post after the election.
Still, any prospective coalition partner that tried to wrest control of the ministry would have to put up a credible candidate as minister and Merkel wouldn't accept just anybody, said one of those with knowledge of the process. The chancellor has learned to rely on Schaeuble's loyalty, even on matters such as Greece where they differed, so it's in her interest to hold the post open for him, the person said.
French Attention
The German election is being closely watched by Emmanuel Macron's administration for clues to the new government's emerging approach to France. As Macron seeks to team up with Germany to further integrate the 19-nation euro area and address some of the flaws that caused the currency's crisis, Schaeuble's fate is a key piece of the puzzle.
Of all possible candidates for the post, Schaeuble has the gravitas that would be required to sell policy shifts to his home audience in Germany, according to Jacob Funk Kirkegaard, a senior fellow with the Peterson Institute for International Economics in Washington.
"If Merkel would engage in a further integration of the euro zone, Schaeuble would be a strong ally in this debate," Kirkegaard said by phone. "With him on board, it would be easier for Merkel to strike a deal with Macron. Nobody in Germany has such a long track record of pro-European politics."
Eager to bolster Macron, Schaeuble and Merkel have been sending out signals to Paris, opening the door to a euro-area budget and an expansion of the euro area's crisis backstop, the European Stability Mechanism, into a European monetary fund. "We'll firmly grasp Macron's outstretched hand," Schaeuble said Sunday in a show of his ability to compromise.
Strengthening the French-German partnership as Brexit decimates the EU would be a fitting task for Schaeuble, who grew up in southern Germany's wine-making Baden region, across the Rhine river from France. His almost two decades in government include helping to negotiate German reunification in 1990 after the fall of the Berlin Wall.
Creating Divisions
Yet he is also the man who dangled Greece out of the euro in 2015 during a showdown over its bailout. Greek Economy Minister Dimitri Papadimitriou called Schaeuble "dishonest" in June for denying his country debt relief, and Portugal's government angrily denied his assertion in 2016 that the country needed another aid program.
"His policy is a big factor in creating divisions between Europeans," Sigmar Gabriel, then head of Germany's Social Democratic Party and now foreign minister, said last year.
For France's loftier projects, it may not matter whether Schaeuble sticks around, said Erik Nielsen, chief economist at Unicredit in London.
"Macron's vision of a European finance minister and a budget can't happen without a treaty change -- and that will not happen in the short term or probably in the period where Schaeuble is around anyway," Nielsen said.
The Great Challenge
Even if Schaeuble takes a very rigid stand on austerity which Italy's government opposes, he remains pro-European and is someone whose door is always open, according to an Italian official who asked not to be named discussing political personalities at election time.
Merkel's goal of holding Europe together while fending off calls for joint euro-area debt are reason enough for her to keep Schaeuble, said his friend Repnik. "It would perhaps be the great challenge of a further term in office," one for which Schaeuble has the "required authority in European circles," he said.