EghtesadOnline: President Donald Trump may be finding out that taking on China over trade is harder than it looks.
The White House is stepping up pressure over perceived intellectual-property abuses, and the administration has in recent days proposed fresh duties on imports of China's aluminum foil products. But gaining real leverage is proving elusive, as deep trade links mean that bold sanctions risk backfiring and targeted ones may end up yielding little, according to Bloomberg.
The bid to use trade probes as a weapon may turn out to be less effective than using the tools of the World Trade Organization. Landing a blow against China would also be more complicated if the U.S. chooses to target sectors where the countries are connected along global supply chains, which make up a most of their bilateral trade.
"Trump really doesn't have many cards in his hand," said Tu Xinquan, dean of the China Institute for WTO studies at the University of International Business and Economics in Beijing. He said the two economies are so closely linked that it's difficult for the U.S. to find a specific industry to assail without triggering repercussions from China.
On Saturday, administration officials said Trump will direct U.S. Trade Representative Robert Lighthizer on Monday to consider investigating China's IP policies, especially the practice of forcing U.S. companies operating in China to transfer technological know-how. If China is found to be flouting rules, the administration's options include imposing import tariffs, officials said. If USTR moves forward, the investigation could take as long as a year.
The latest move, opening a new front of trade friction even as the countries try to work together to contain North Korea's nuclear threat, would possibly end up as just another example to show how trade policy isn't as simple as it sounds.
Chinese media poured cold water on the Trump administration tactics. Economic Daily, a state-run news paper under China's State Council, the cabinet, said in a Monday editorial that the intellectual-property probe will do more harm than good, whether it is being used as a new policy approach or negotiation tactic. It argued the two sides should explore new trade territory through negotiations to address the imbalance.
Trump's move to link trade with the North Korea issue will only "exacerbate the country's economic woes, and poison the overall China-U.S.relationship," the state-run English newspaper China Daily wrote in a commentary titled "Trump asking too much from Beijing on peninsula issue" on Monday.
Stick Waving
The timing of the IP probe announcement was interesting, as it came after the phone call between Xi and Trump on North Korea, Jiang Shan, a former U.S. trade official at the Ministry of Commerce, said by WeChat. "Trump is again waving the stick to push for his 'deal', testing how China would respond. In the end, the two sides would go back to the negotiation table as always, both stepping back a little, and finding a way to pass this phase."
Liu Li-gang, chief China economist at Citigroup Inc. in Hong Kong, said the countries are complementary in many sectors, especially those related to technology. Trade restrictions in such areas, whether higher tariffs or intellectual property probes, would therefore hurt American companies and the country's economy, he said.
Meanwhile, the Trump administration blames China's excess capacity of the metals for a global glut that's undermining U.S. producers. Yet steel and aluminum industries are hardly weak points for China, where most production is sold at home. Steel and aluminum shipments make up only 3.5 percent of total exports, and account for just 0.7 percent of gross domestic product, according to Fielding Chen, an economist at Bloomberg Intelligence in Hong Kong.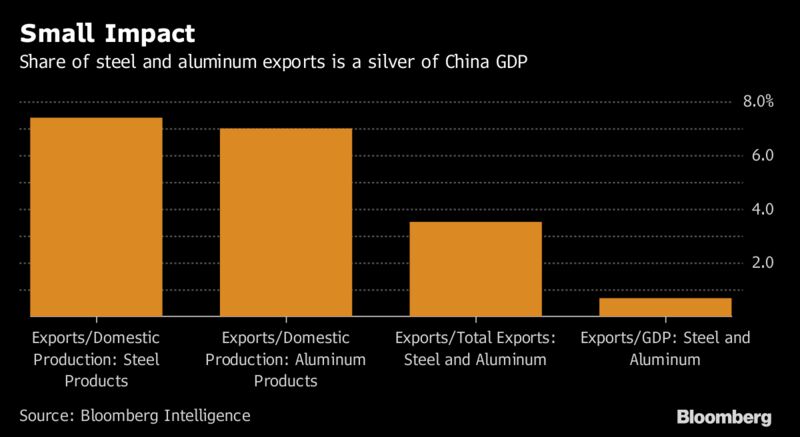 Even if the Trump administration "does decide to impose tariffs on steel and aluminum, the most widely discussed measures, the impact on China's growth would likely be limited because they make up only a sliver of China's exports and GDP," Chen wrote in a recent note.
The U.S. aluminum foil production industry accounts for $6.8 billion in economic activity annually, according to a statement from the Aluminum Association, a trade group. That works out to less than 0.0004 percent of GDP.
The U.S. said last week it would seek to impose duties on aluminum foil imports from China, arguing that subsidies for the domestic industry unfairly disadvantage American producers. China can turn to the WTO after Commerce delivers its final ruling on the case in October.
A bigger risk for Trump might be that after the rhetoric and potential sanctions, China's economic momentum continues chugging along undisturbed.
In a worst-case scenario of full trade war, China's exports to the U.S. would drop, but that would shave off just 0.1 percentage point from China's economic growth rate, according to China International Capital Corp. The shock would be even smaller should China redirect trading to other nations, CICC analyst Liu Liu in Beijing wrote in a report Wednesday.
Instead of trade war, leaders of the two largest economies should instead solve problems by increasing trade and investment, according to the Institute of International Finance in Washington.
Like China, the U.S. benefits more from bilateral trade ties. Growth of U.S. exports to China has been twice as fast as imports from there, and triple the growth of total exports, IIF chief China economist Gene Ma wrote in a recent report.
"The U.S. could be the biggest beneficiary of China's consumption rise," Citigroup's Liu said. "If you think long-term from this angle, there's no need to have a trade war at all."