EghtesadOnline: As an unprecedented diplomatic crisis spreads through the Gulf with Qatar at its center, one thing is certain: the country's stock market has become the world's most volatile.
It's difficult for investors to assess the impact to the country's $135 billion stock market as the disagreements mark an unprecedented low in the relationship between the Arab countries, in particular for those in the six-nation Gulf Cooperation Council. A gauge of 10-day volatility for the benchmark DSM Index rose to the highest level since February 2016, when assets across the region suffered with a slump in oil prices, according to Bloomberg.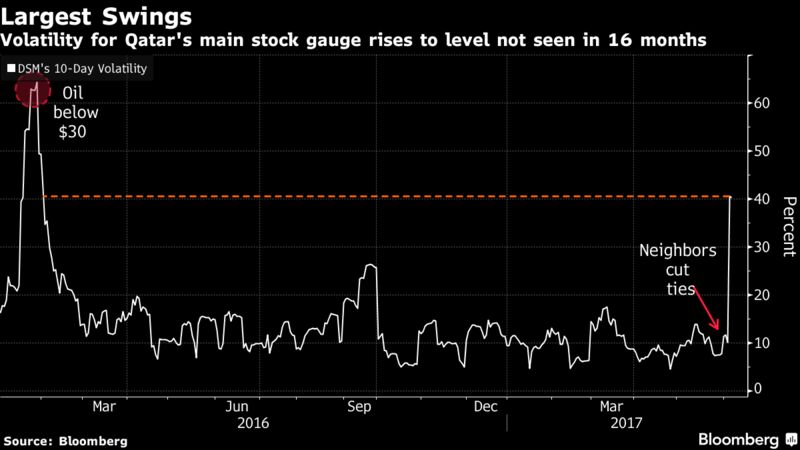 Qatar's main index rose as much as 3.3 percent on Tuesday before closing down 1.6 percent at the end of the day, extending losses after its worst performance since 2009 during the previous session, when it declined 7.3 percent. The gauge finished down 1.1 percent on Wednesday and is heading for the world's biggest weekly decline.
"We think that the market volatility will continue in the short term until we get a resolution of the situation," said Mohamad Al Hajj, a Dubai-based equity strategist at EFG Hermes, adding that Tuesday's session in Qatar "was very volatile as initial positive performance driven by local flows (institutions and individuals) was later faced by heavy selling from GCC and foreign institutions."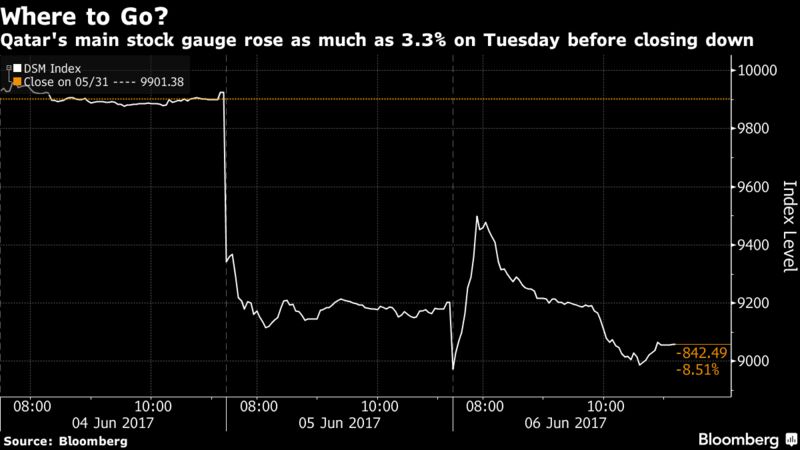 On Tuesday, U.S. President Donald Trump threw his weight behind the Saudi-led diplomatic isolation of Qatar, calling it just punishment for the country's financial support for Islamic extremists and taking sides in a dispute among key U.S. allies in the Persian Gulf.
Qatar National Bank QPSC, the biggest lender in the Middle East and the largest weight to the country's stock benchmark, fell 8.1 percent in three days. Its 10-day volatility rose to the highest level since August this week.
Doha-based lender Qatar Islamic Bank SAQ sank 8.2 percent and Qatar Electricity & Water Co QSC fell 2.1 percent, with both stocks reaching their lowest prices since January 2016. Vodafone Qatar QSC, on the other hand, increased 1.6 percent after a 13 percent drop in the past two days.
The split in the Gulf increases risk for assets spread through to the whole region, not just Qatar, said Hasnain Malik, head of global equities research at Exotix Partners LLP in Dubai. The main question for investors looking at attractive valuations for Qatari shares at the moment is what the country will do to ease tensions with the government of Saudi Arabia and the U.A.E., he added.