EghtesadOnline: Just a few years back, the business relationship between the U.S. and Saudi Arabia was pretty simple: The Americans bought oil, and the Saudis spent much of what they earned on equipment to keep the crude flowing and on planes, tanks, and missiles to protect their borders.
With crude prices down by half over the past three years, U.S. domestic oil production up dramatically, and the kingdom embarking on unprecedented economic reforms -- including the sale of a stake in its state-owned oil company -- the leverage is shifting toward the Americans as the U.S. emerges as a rival energy exporter. The changing relationship will come into sharp focus this weekend, as American corporate titans visit Riyadh for an investment summit scheduled to coincide with Donald Trump's first foreign trip as U.S. president, according to Bloomberg.
"At this point, the Saudis need the U.S. more than the reverse," said Philippe Dauba-Pantanacce, global geopolitical strategist at Standard Chartered Plc in the U.K. "They need foreign direct investment to transform the economy, and the U.S. doesn't need oil anymore."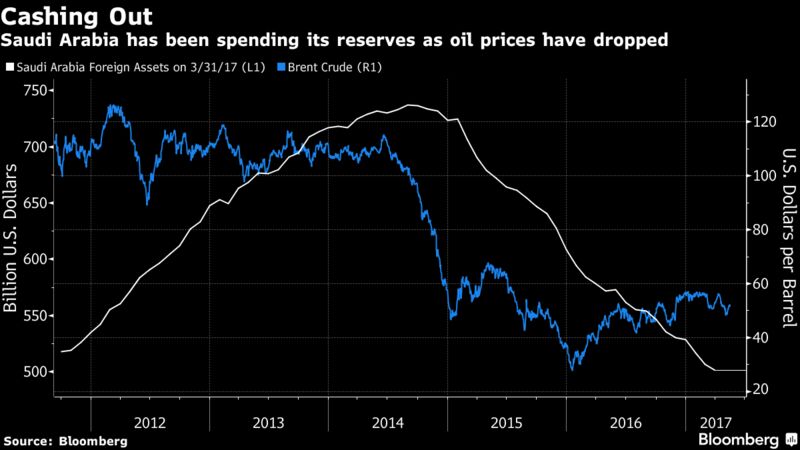 For Trump, the visit could provide a welcome respite from the turmoil he has unleashed in Washington over his firing of FBI Director James Comey and the investigation into Russian meddling in the presidential campaign. Saudi King Salman bin Abdulaziz wants backing for a plan to reduce the role of the state and wean the economy off of oil -- without stoking popular discontent.
The American executives will want deals. Some, like Jamie Dimon, chief executive officer of JPMorgan Chase & Co., and Morgan Stanley boss James Gorman, already have agreements to advise oil giant Saudi Aramco on its initial public offering, which may be the largest ever. JPMorgan and Citigroup Inc. helped arrange a $17.5 billion Saudi bond sale last year and a $9 billion Islamic bond issue in April. This weekend the banks will aim for more contracts as the Saudis prepare to sell other state assets.
Defense Sales
Boeing Co. CEO Dennis Muilenburg and Lockheed Martin Corp. head Marillyn Hewson will be looking to cement defense sales. Aramco could sign at least 10 deals with companies including General Electric Co. and oil field-service businesses Schlumberger Ltd. and Halliburton Co. to open manufacturing plants in the kingdom, people familiar with the plans say.
The U.S. executives are expected to meet the Saudi ministers of finance, energy, and commerce and the head of the kingdom's sovereign wealth fund, according to a draft agenda for the conference, which was hastily arranged after the Trump visit was announced just two weeks ago. They'll discuss privatizations, investment opportunities, and the role of the Saudi sovereign fund, then they'll travel to the Royal Court to sign agreements totaling billions of dollars as Trump and King Salman look on.
"Though ties have historically been strong, nothing of this scale and depth has ever happened before," said John Sfakianakis, a director at the Gulf Research Center in Riyadh. "The relationship with the U.S. is entering a new phase."
Asia Tour
In March, King Salman returned from a tour of Asia with agreements potentially worth tens of billions of dollars, including $65 billion from China, $13 billion from Malaysia and Indonesia, and 43 potential projects with Japanese companies. Contracts unveiled this weekend could well eclipse those deals, Sfakianakis said.
The Saudis have been enthusiastic about Trump after a lukewarm relationship with Barack Obama. The kingdom claimed relations had reached a "historic turning point" in March when Trump met Deputy Crown Prince Mohammed bin Salman at the White House. After the meeting, Trump offered his support for a new U.S.-Saudi program in energy, industry, infrastructure and technology that could lead to more than $200 billion in investments over the next four years.
That's not to say the Saudis, who have cash reserves topping $500 billion, are no longer looking for investment opportunities. The country's Public Investment Fund is expected to announce plans to plow $40 billion into U.S. infrastructure, and it's seeking partners in the defense industry to help develop domestic arms production.
The goal is to create jobs. The government's reform plan has so far focused largely on trimming generous fuel and energy subsidies, and scrapping bloated infrastructure projects -- moves that have helped slow economic growth from 10 percent in 2011 to just 0.4 percent this year, the International Monetary Fund predicts.
'Not All About Austerity'
"A big part of Saudi Arabia's message is that the reform program is not all about austerity,'' said Monica Malik, chief economist at Abu Dhabi Commercial Bank PJSC. "They will be keen to show some concrete commitments from U.S. companies and that this is a two-way street.''
Some analysts caution that while the executives may announce billions of dollars worth of agreements, many of those will have long been in the works. And some newer deals announced with great fanfare will simply be agreements to explore investment opportunities, which can later be quietly dropped with few repercussions, said Peter Salisbury, a fellow at Chatham House, an international affairs research group in London.
"I expect to see a flurry of exciting-sounding deals with some large figures attached," Salisbury said. "When you dig into them, they will be largely pre-existing agreements or early agreements that may or may not actually translate into action."