EghtesadOnline: European stocks slipped, mirroring a drop in U.S. index futures, as the failure to pass U.S. health-care legislation Friday sparked fresh doubts over the ability of U.S. President Donald Trump's party to cut taxes and boost infrastructure spending.
The Stoxx Europe 600 Index was down 0.5 percent at 11:57 a.m. in London, with a gauge for the basic resources sector dropping 2.1 percent. Mining stocks have been among the biggest beneficiaries of the Trump rally started in November. The Stoxx 600 is still up 1.2 percent in March as the Euro Stoxx 50 advanced 3.4 percent, both outpacing the S&P 500 which is down 0.8 percent over same period, according to Bloomberg.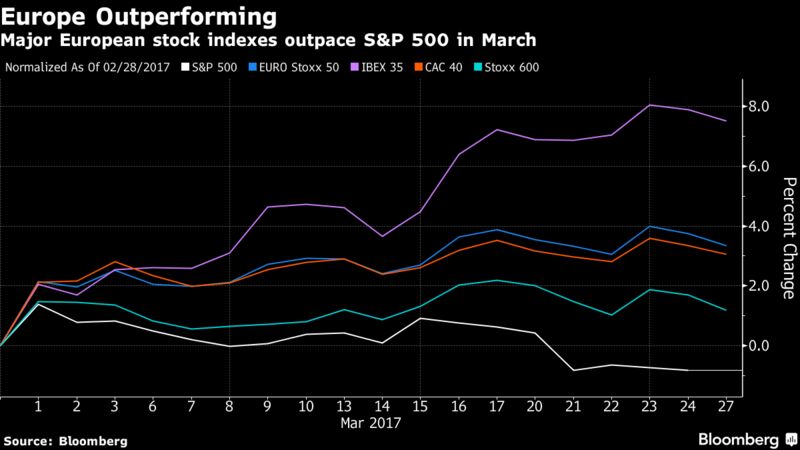 Greek stocks resisted the selloff, with the ASE Index gaining 2.1 percent, helped in part by optimism the country may reach a new deal with creditors as well as expectations of an improvement in results for the Greek banking sector.
Trump's inability to secure support for his health-care bill doesn't bode well for other reforms, Michael Hewson, chief market analyst at CMC Markets, wrote in a note. "The consensus on (the tax reform) is probably likely to be much more difficult to achieve than on health care, which suggests that a lot of the optimism about the reflation and fiscal stimulus trade may well have to be reassessed as well," he wrote.
Reflation trades triggered by Trump's election in November have already been faltering this month, with the dollar retreating and the S&P 500 Index headed for its worst month since October, just prior to the presidential elections.
European stocks are set to outperform U.S. shares over the coming months, Jefferies equity strategists wrote in a note. Earnings revisions are moving faster in Europe than in the U.S., and the two regions' economic uncertainty indexes are moving in opposite directions, they wrote.