EghtesadOnline: It may not be a smooth ride, but investors who jump into Chinese equities and hold on for the long term will end up happy, according to Morgan Stanley.
Skepticism over structural reforms, a shrinking labor force, potential trade battles with the U.S., along with regulatory intervention, have provided investors plenty of reason to pause before diving in to Chinese onshore equities, or A shares. And the past decade has seen periods where the market's performance looked like a roller-coaster ride, Bloomberg reported.
But underneath it all lies a Chinese economy that continues to develop, with a swelling middle class. In the end, that dynamic will see the MSCI China Index outperforming emerging market peers, according to the U.S. investment bank.
"The key message of this report is that China can transition to high income status, something few other EMs have achieved," Morgan Stanley strategists led by Jonathan Garner wrote in a 118-page macro outlook received Tuesday. "It is likely that over the next 10 years MSCI China can keep up its long track record of outperformance of EM."
The reform of state-owned enterprises over the next decade will help to foster growth and provide investment opportunities, while consumption and services will become more dominant, according to the projections. Morgan Stanley recommended using near-term weakness in new economy sectors such as information technology, consumer and healthcare to add to weightings.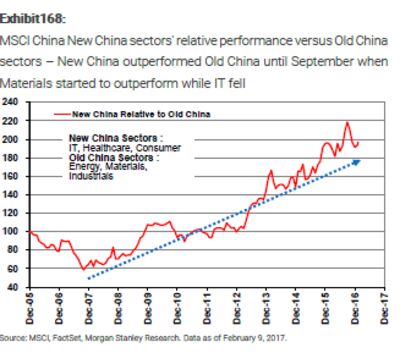 Source: Morgan Stanley
The analysts said the weighting of A-shares in global investor portfolios will gradually grow, with exposure acting as a useful way to diversify risk as their characteristics include low or negative correlations with other global equity indices. However, this will take time.
"Clearly, there are many aspects of price formation and market regulation in China's equity markets which continue to look unfamiliar to the global investor," such as the process for suspending trading and for approving initial price offerings, the analysts wrote.
Morgan Stanley reiterated its target for the Shanghai Composite Index to reach 4,400 this year. The gauge closed at 3,217.92 on Tuesday, down 1.4 percent from Nov. 28, when Morgan Stanley raised its 2017 target to 4,400.

The analysts said China is headed for high-income status by 2027, becoming only the third country with a population of more than 20 million to achieve that over the past three decades, after South Korea and Poland.

If China can make the achievement, it is "very likely" the MSCI China gauge will continue a trend that has seen it deliver a U.S. dollar total return compound annual growth rate of 13 percent over the last 15 years, outperforming its broader emerging-market peer by 3 percentage points a year, Morgan Stanley said. That is the difference between a $100 investment becoming $625 or $418, it noted.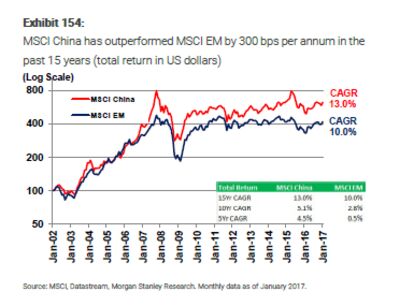 Source: Morgan Stanley